In today's post, we're sharing how to make a bacon bouquet full of meaty goodness for the one you love!
Flowers are temporary, but bacon is forever.
That's definitely the motto most of the men in my life live by.
We are a family of bacon lovers. Thin cut, thick cut, smoked, fried, candied, whatever. We'll take bacon any way we can get it!
Recently, my friend Becky told me that she made a bacon bouquet filled with bacon roses for her husband's birthday and it was a huge hit. I thought the idea was absolutely brilliant, so I decided to try it myself.
Y'all! It was so fun to make and turned out so good! Plus, bacon bouquets make fantastic gifts!
What is a Bacon Bouquet?
You're probably asking yourself what is a bacon bouquet and why would anyone want one?
Well, I'm here to answer those questions for you!
A bacon bouquet is basically the meat equivalent of a dozen roses. A bacon bouquet is a bunch of little rosettes made of rolled up bacon slices, placed on the ends of flower stems.
It's actually quite pretty and the best part is it's edible! It's the perfect gift for anyone who loves bacon.
Looking for the perfect Valentine's Day gift for your boyfriend? Bacon bouquet.
Wanna give your dad something extra special for Father's Day? Bacon roses.
Does your bacon-loving daughter have a birthday coming up? Bacon bouquet.
See, it's perfect! They'd even make a great compliment to this Memory Explosion Box!
And you're in luck because I'm sharing my method for making bacon roses with your today.
I'm including a printable recipe for my bacon bouquet at the bottom of this post, but it's just the basics. You'll want to read the whole post first to get all the tips and tricks to get this recipe right the first time!
What You'll Need To Make Bacon Roses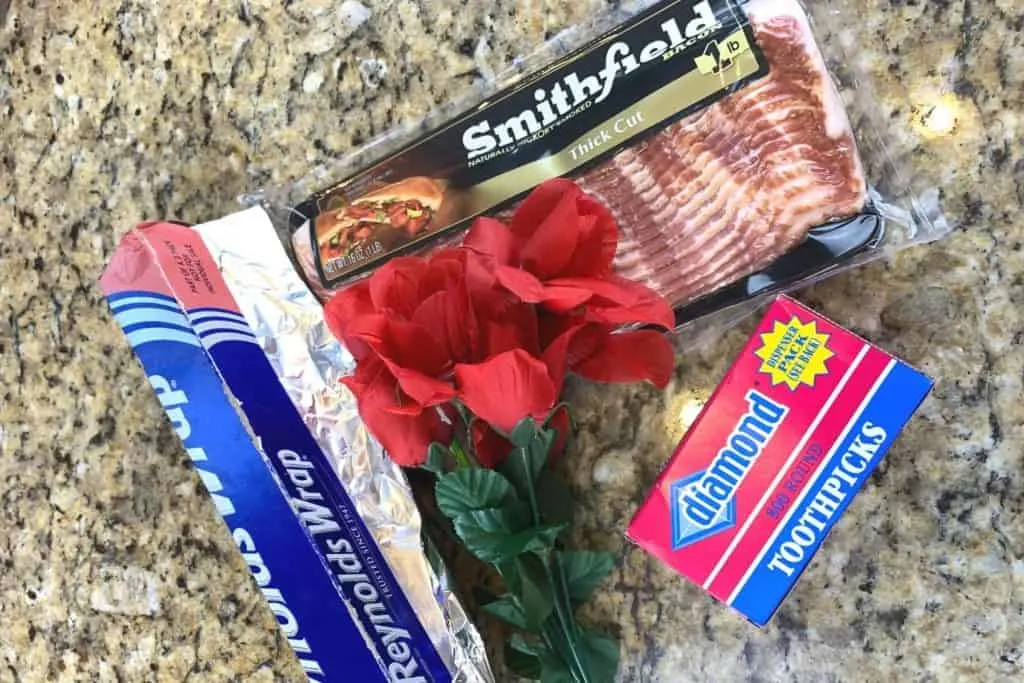 The supplies for making a bacon bouquet are super easy to find.
Here's what you need to gather up to make a dozen bacon roses:
12 slices of thick cut bacon
48 toothpicks
Some fake roses (with at least one dozen stems)
A muffin pan
Tin foil
Dish soap
I used Smithfield Thick Cut Bacon that I found at my local Walmart to make my bacon bouquet. You could use a regular cut bacon, but you'd get pretty tiny roses. A thick cut works best so that they actually make a good size bloom.
I was able to find all my other supplies at the Dollar Tree, including the fake roses.
Prepping Your Flowers
When researching this project, I noticed that most other recipes for Bacon Bouquets used fake flowers for the stems, like I did.
What I wasn't able to find in a single article was how to clean the fake flowers before you use them.
Let's be honest here. Using unwashed fake flowers to serve food you expect someone to eat is pretty disgusting.
These flowers have been sitting around the dollar store for who knows how long, being handled by every Joe Schmoe and their mama.
The dust alone is enough to make me queasy, let alone all the germs.
Even with all that, I still felt like they were the best method to getting the look I wanted for the bacon roses, so I figured out how to clean them to make the acceptable to use for this project.
You'll want to start by removing the flowers from the stems. This was pretty easy to do, as they should just pull off with a little pressure.
Make sure you keep all the green parts and reattach them to the stems, since those are what really make these bacon flowers look realistic.
After you've removed the blooms, fill your sink up with hot water and a some dish soap.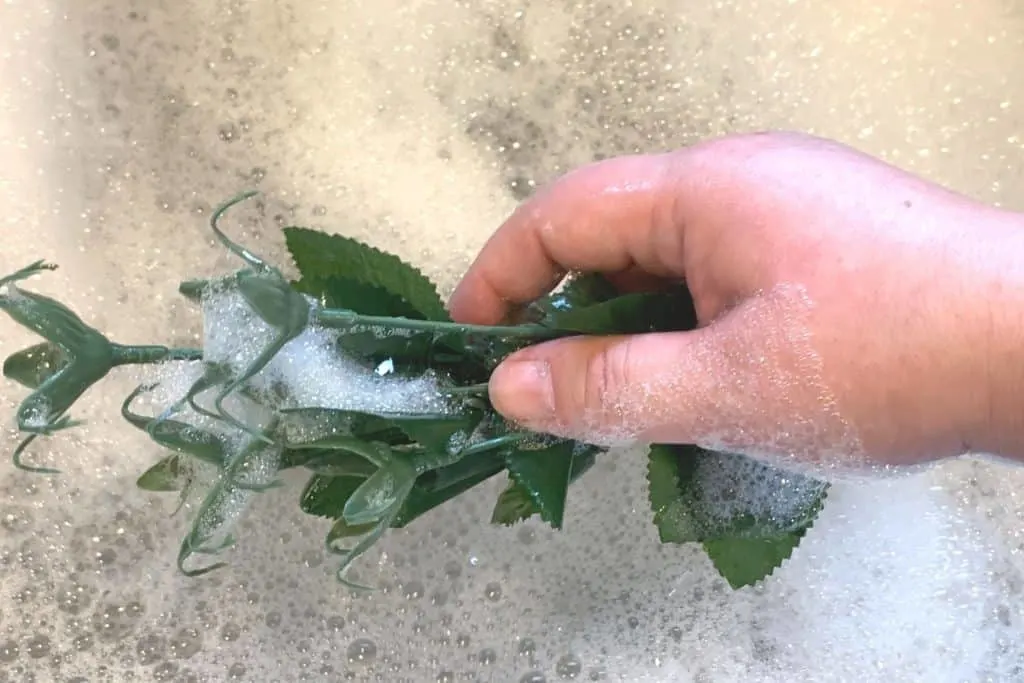 Plunge your fake flower stems right into that soapy water and swish them around. I spent a little time scrubbing every end with my fingers, just to make sure I got them extra clean.
After I felt like I'd cleaned them as much as possible, I rinsed them in warm water, then set them out to air dry.
Making your Bacon Flowers
For the next step, go ahead and preheat your oven to 375 degrees. Then prep your pan for baking.
It is absolutely KEY that you cover your muffin pan with tin foil before cooking the bacon roses.
It makes clean up one million times easier to just let it cool and toss the bacon grease filled cups than trying to scrub all that bacon grease off your muffin pan.
You could use a baking sheet and a drip rack for this if you don't happen to have a muffin pan.
Next you're going to lay out your bacon and get it ready to roll into a flower.
Have your toothpicks handy so you'll be ready for the next step as soon as you've rolled your flower.
A strip of bacon always has side that's fattier and one side that's meatier.
The goal is to roll the bacon so that the meatier side is towards the top, making the petals of your bacon rose.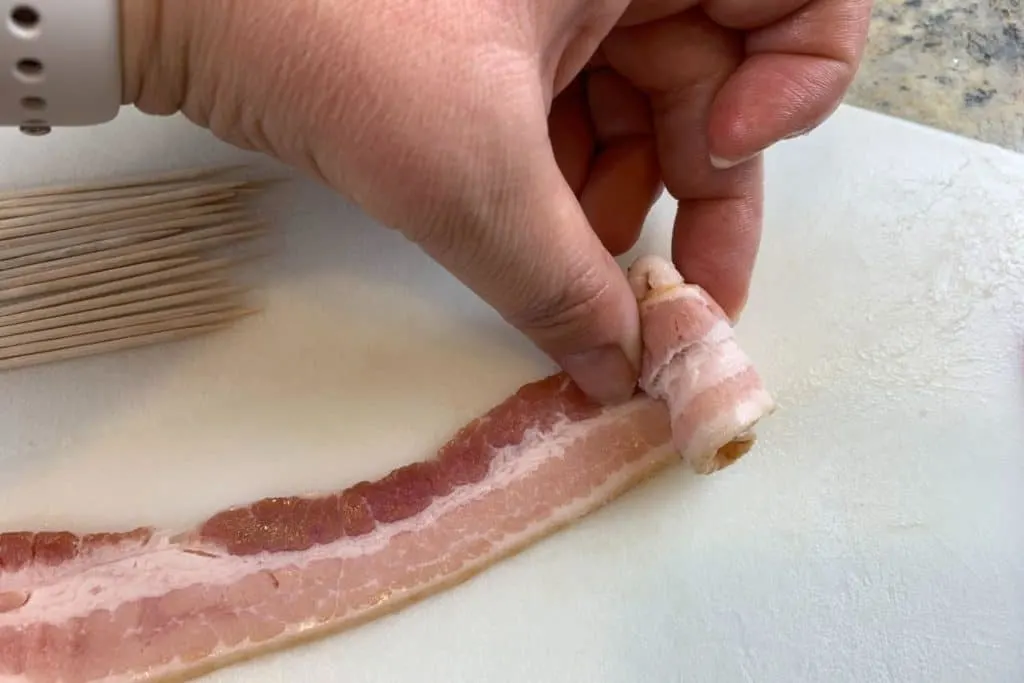 Starting at the thinnest end of your strip of bacon, start rolling towards the other end. You'll want to keep it rolled tightly on the fattier side to get the rosette shape for your bacon flower.
Once you've rolled the entire thing, stab a toothpick into the end of the bacon to secure it in place.
Now add three more toothpicks around the flower so that the toothpicks will sit on the edges of the muffin tin cup, leaving the bacon rose to hover above it.
This gives air a chance to flow all around the bacon and cook it more evenly, and it gives the bacon grease a place to go.
Once you've repeated this process, you're ready to cook your bacon bouquet.
Cooking The Bacon
Now that your pan is ready with a dozen bacon rose buds ready to be cooked, just pop it into your pre-heated oven.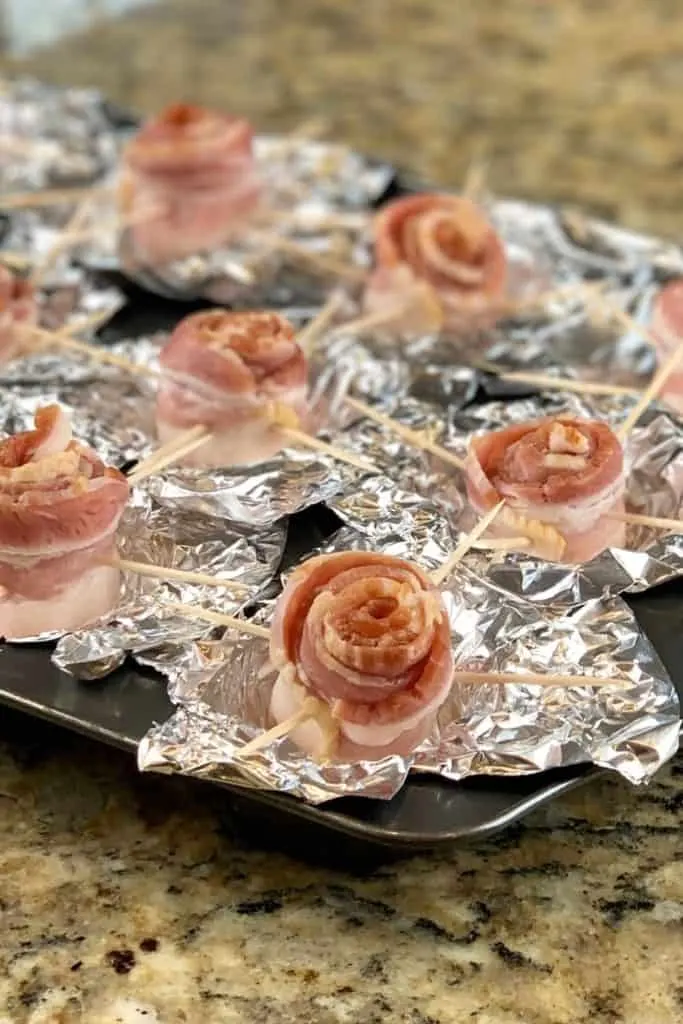 Many people recommend cooking bacon at 400 degrees in the oven, but I like the way it turned out at a little lower temperature. Since the bacon is all bundled up into a flower, this gives it a chance to cook a little more thoroughly in the middle.
Bake your bacon bouquet for about 40 to 50 minutes.
At the 30 minute mark, my bacon was lookin very cooked on top, but a little undercooked on the bottom.
To keep the top edges of my bacon roses from burning, I loosely tented the entire muffin pan with a sheet of tin foil.
I continued cooking the bacon for another 20 minutes, for a total of 50 minutes.
The came out of the oven looking gorgeous and smelling amazing!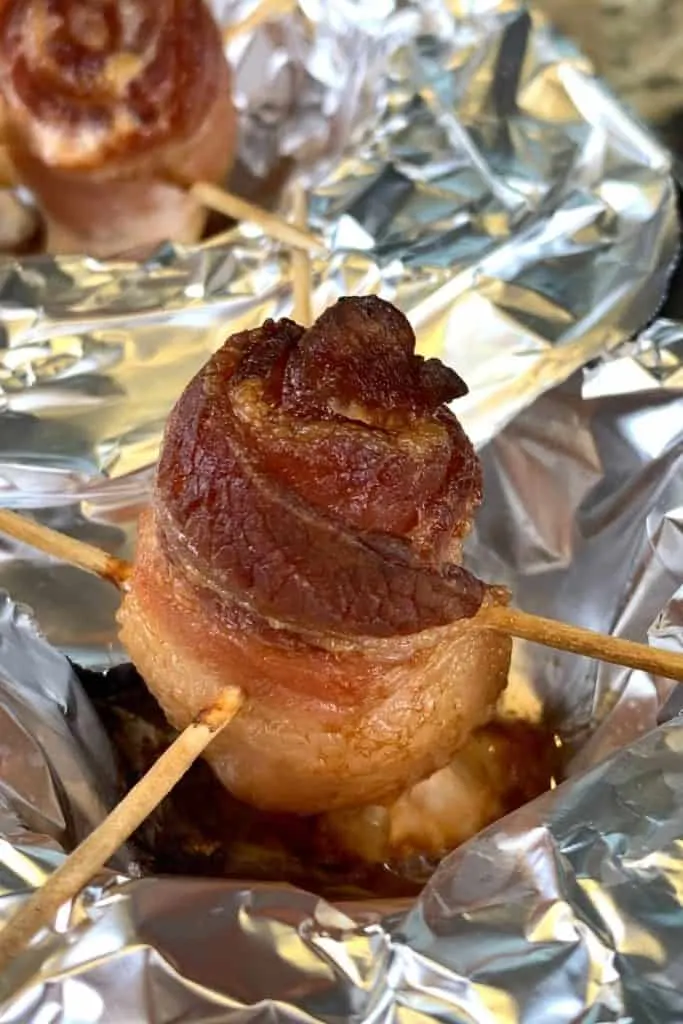 After you've baked your roses, set them aside to cool until you can handle them comfortably.
Assembling the Bacon Roses
Here's where your bacon bouquet really starts to come together.
Start by removing all the toothpicks from your bacon roses and set them aside.
Take your clean fake roses stems, and push down on the green plastic leaves that sit at the base of each rose bud, bringing up some of the wired portion of the stem through it.
Take a bacon rose bud, and place it onto the wired portion of the stem, letting that wire hold it in place.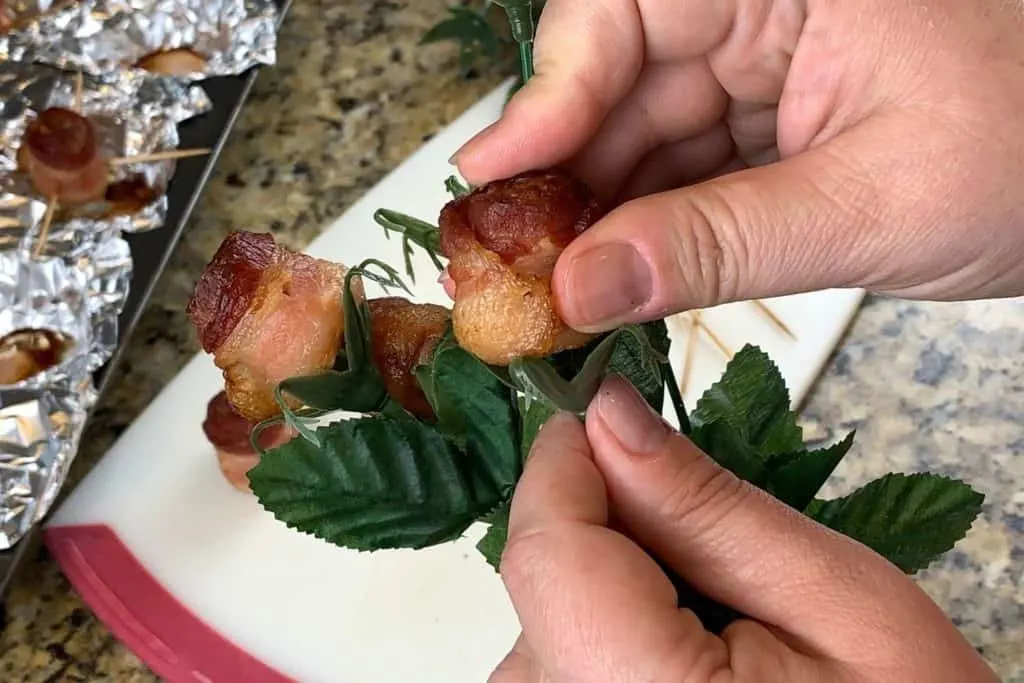 Repeat this process for all twelve bacon roses to create your bacon rose bouquet.
Bacon Bouquet Presentation
Now that you bacon bouquet is finished, you can make the gift even more fun by finding a fun way to package them for presentation.
My favorite way would be to wrap them up in tissue paper and present them in a white box with a big red bow, just like you see in the movies.
You could also put them in a simple vase or just tie a ribbon around the stems and hand them over.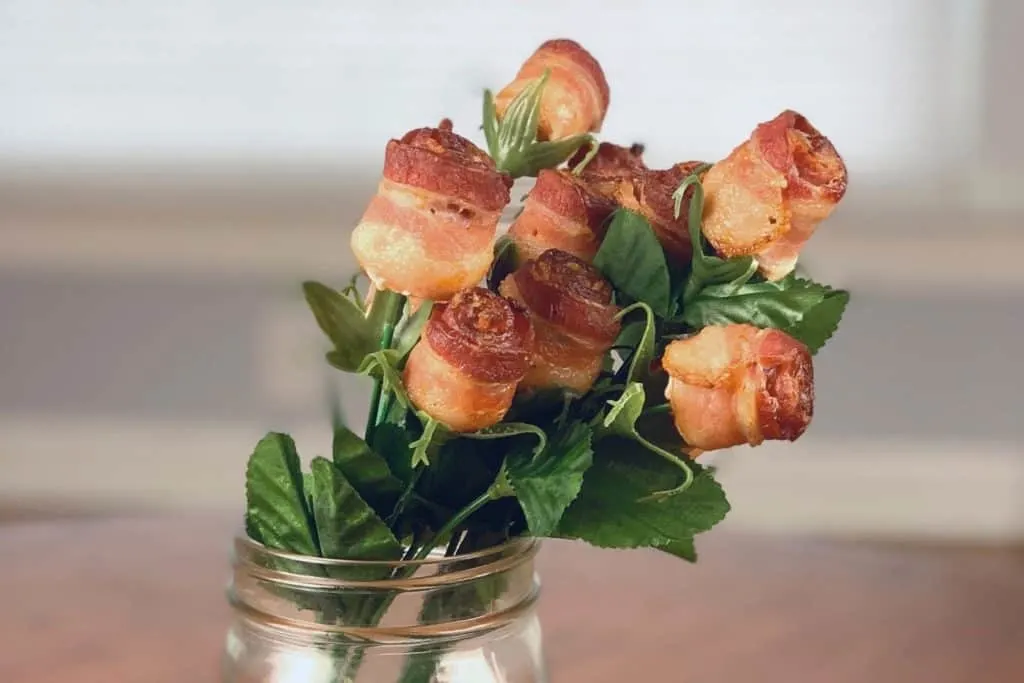 No matter how you present them, a bacon bouquet of bacon roses is sure to be a HUGE hit with any meat lover in your life!
Have you made a bacon bouquet? How did your bacon roses turn out? Tell me in the comments!
Yield: 12 bacon roses
Bacon Bouquet: How To Make Your Own Bacon Roses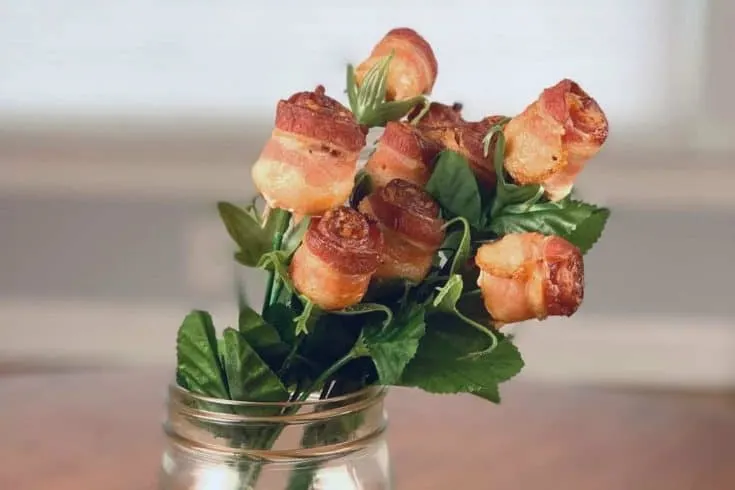 Make your loved one a bouquet of bacon roses for the best gift ever!
Additional Time
15 minutes
Total Time
1 hour
20 minutes
Ingredients
12 slices of thick cut bacon
A bunch of fake roses
Instructions
Remove the petals from the fake flowers and clean the remaining stems in soapy water.
Roll bacon into rosettes and secure with four toothpicks.
Line muffin tin with tin foil and place one rosette in each cup.
Bake for 40 to 50 minutes, tenting with tin foil midway through cooking.
Allow bacon roses to cool completely.
Secure bacon rosettes onto the clean stems of the fake flowers.
Notes
See full post for detailed instructions on cleaning the flowers and assembling the roses.
Nutrition Information:
Yield:
12
Serving Size:
1
Amount Per Serving:
Calories:

56
Total Fat:

4g
Saturated Fat:

1g
Trans Fat:

0g
Unsaturated Fat:

3g
Cholesterol:

12mg
Sodium:

202mg
Carbohydrates:

0g
Fiber:

0g
Sugar:

0g
Protein:

4g
Bacon Bouquet: How To Make Your Own Bacon Roses