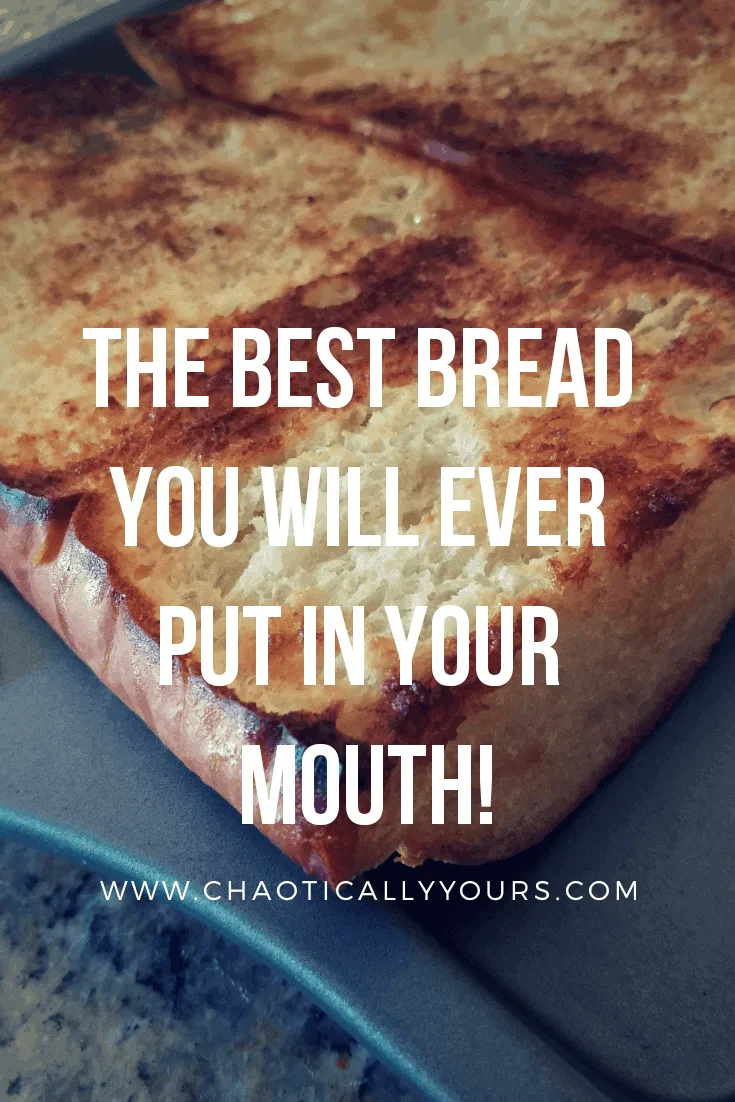 Y'all! This two-ingredient bread side dish is probably the best thing you'll eat this year! No joking! It's amazingly decadent, and unbelievably simple to make. We don't make garlic bread in our house anymore, we make this.
I originally found this recipe in a Pioneer Woman Cookbook, (as seen here: http://thepioneerwoman.com/cooking/the-bread/ ) but made a couple of adjustments to it to make it just right for our family. Here's the way I do it.
Ingredients: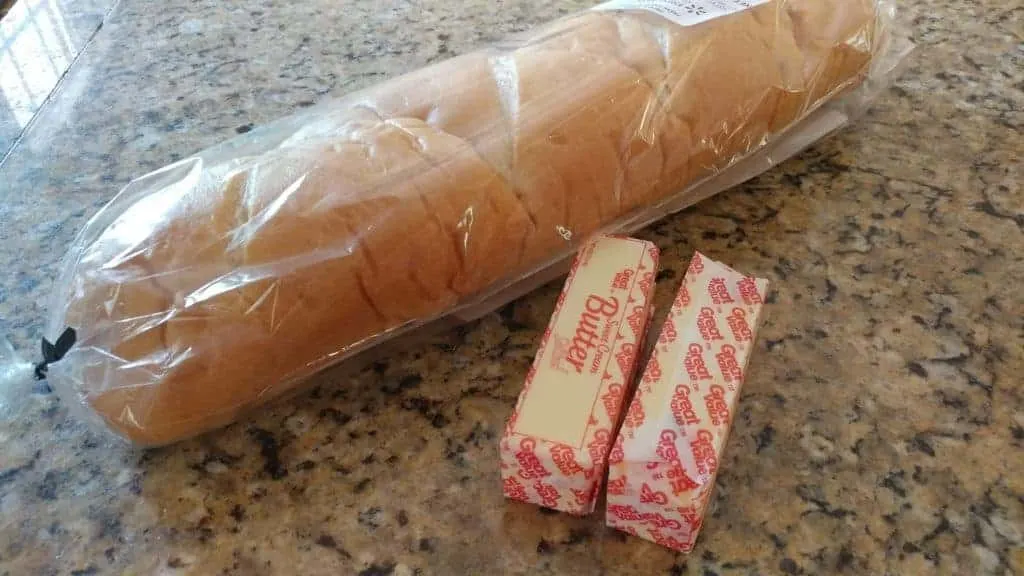 All you need is a loaf of French bread and two sticks of softened, salted butter.
That's it.
Seriously. I'm not kidding. That is ALL you need. This recipe is all about the (incredibly easy) cooking technique.
The only really important part is that you need SALTED butter. I've made it with unsalted butter, but wasn't right. And I definitely would NOT try it with margarine or any other butter substitute. You just need old fashioned, salted butter.
As far as the bread goes, we prefer the $1 loaf from Walmart. It's a manageable size, and is usually thick enough to cut it appropriately.
Make sure you set your butter out a couple hours before you want to make the bread, and that it's fully softened. This makes spreading SO much easier. (In a pinch, I have been known to soften it in the microwave, but it can get tricky doing that. You MUST only put it in for short bursts at really low power or you'll just melt the butter and all you have is a mess.)
First, preheat your over to 375° F.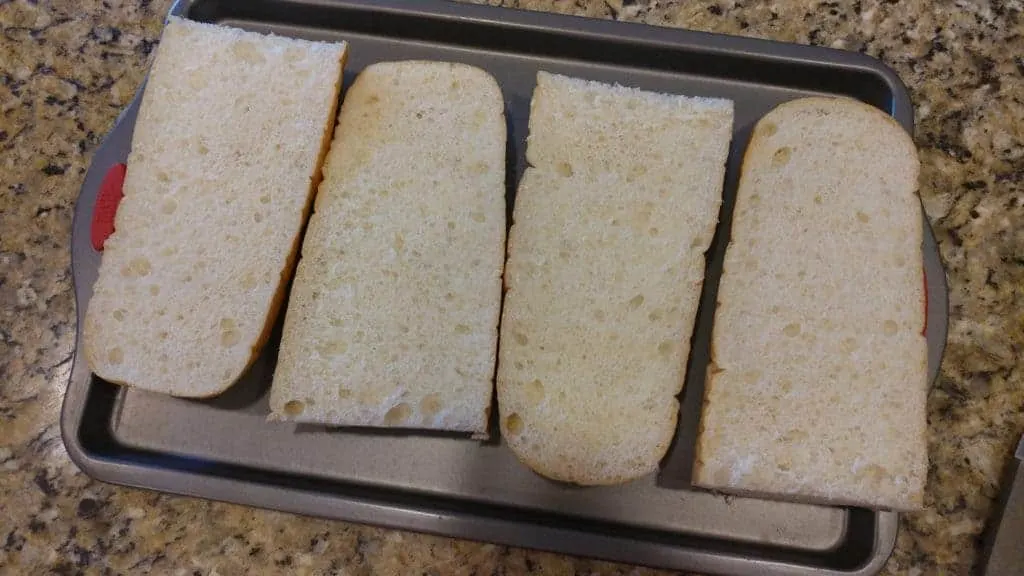 Cut the bread in half , width wise , making 2 large pieces. Then cut each piece down the middle, sandwich style, and lay them open face.
Try to make these pieces as even as possible. You'll thank me for that later, since even pieces REALLY cook better in this recipe.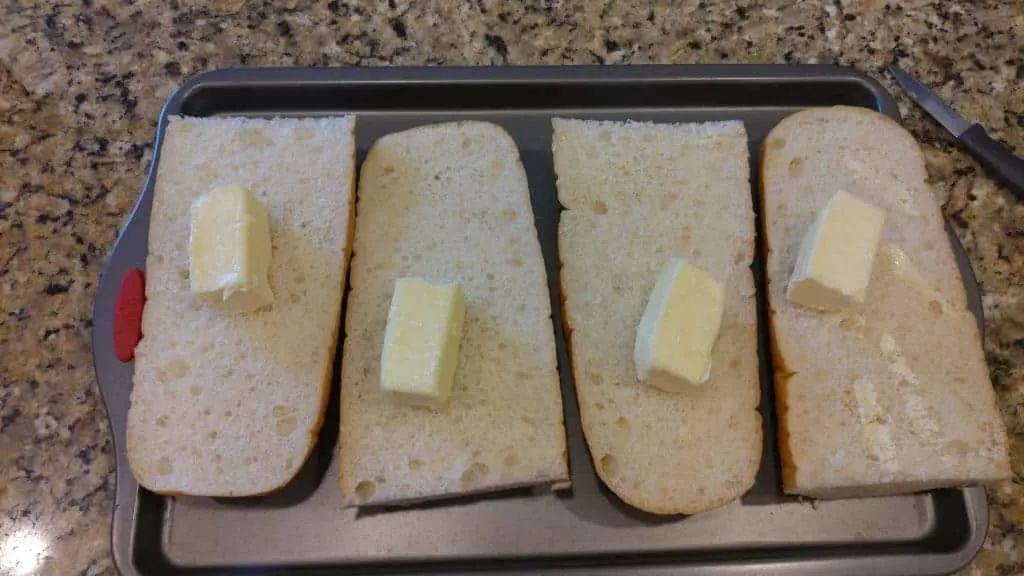 Next, cut each stick of softened butter in half, leaving an even amount of butter for each of the four pieces of bread.
Now slather each piece of bread with that half stick of butter. I know, it's a LOT of butter, but I never promised this would be a low calorie recipe. Be sure to spread evenly, making sure every millimeter of that bread is covered.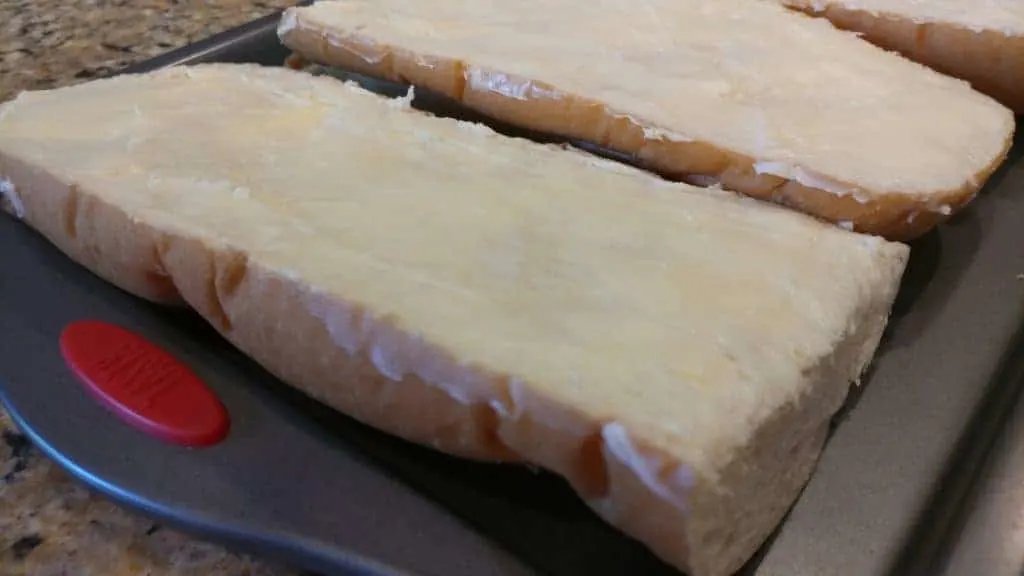 Place the buttered bread on a rimmed baking sheet. You really want a rim around this one in case any of the butter drips off the bread. You really don't want it dripping onto the bottom of your oven, and burning. Let me just tell you, it's gross and hard to clean up.
Pop the baking sheet with your bread on it into your 375° F oven, and let it bake for about 10 minutes. You want all that buttery goodness to melt and soak deeply into the bread.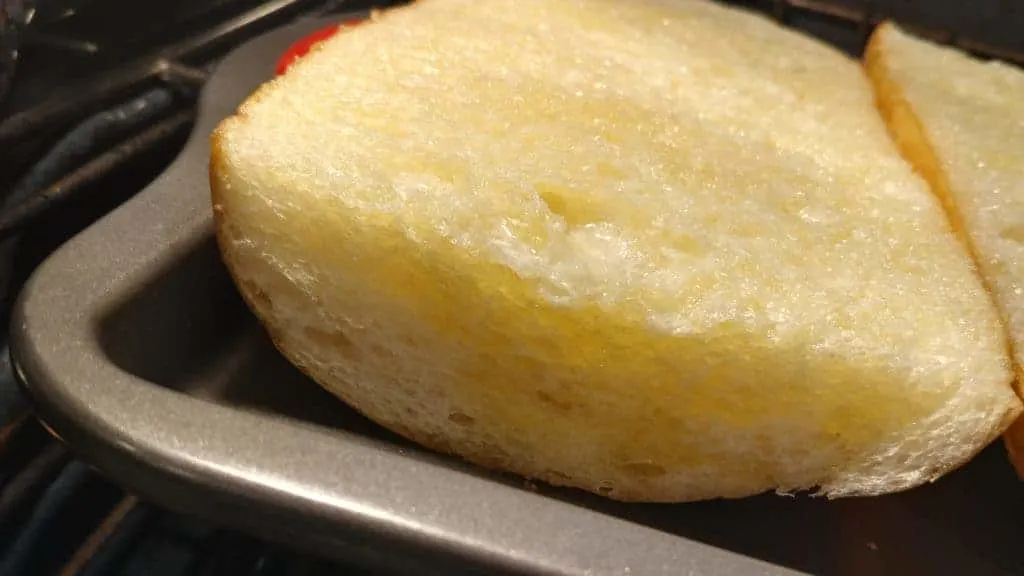 Once you're bread is nice and soaked in that butter, you'll want to turn on your oven light and crank up your oven to BROIL.
I know that sounds crazy, but you're gonna want to almost burn the bread. Let the broiler brown that butter into deep golden brown delicious goodness. You want to wait until the edges are almost black. The browner the top of the bread gets, the better. You want that brown butter flavor to develop on the top of each piece. Let it sit under that broiler about 10 to 15 seconds longer than you think it should.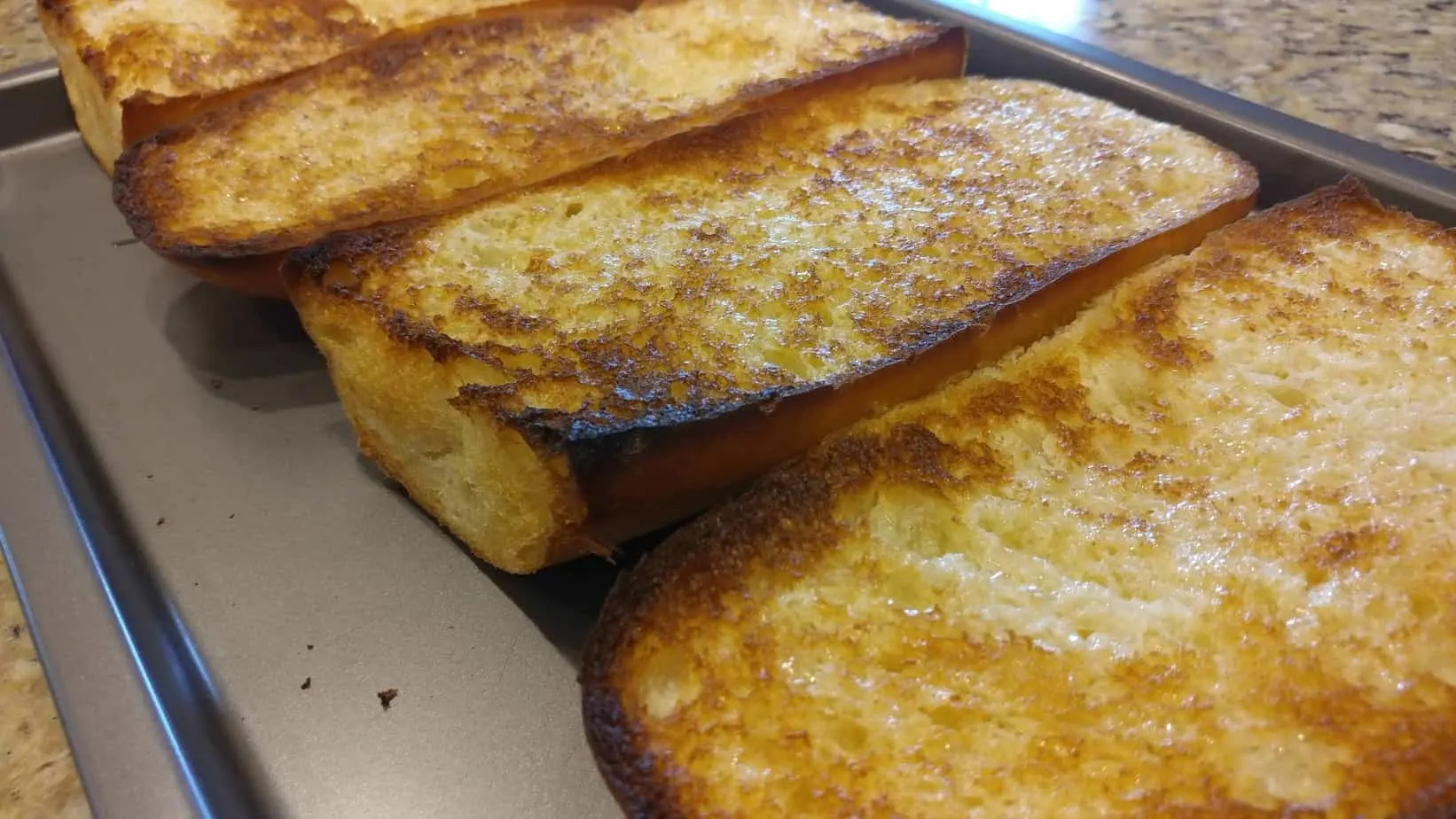 You need to closely watch it, but in a very short amount of time, it can go from perfectly browned and delicious to burned and gross. Seriously, don't take your eyes off it. I literally sit on my kitchen floor watching it brown through my oven window, just to make sure I don't miss that perfect point of toasty goodness.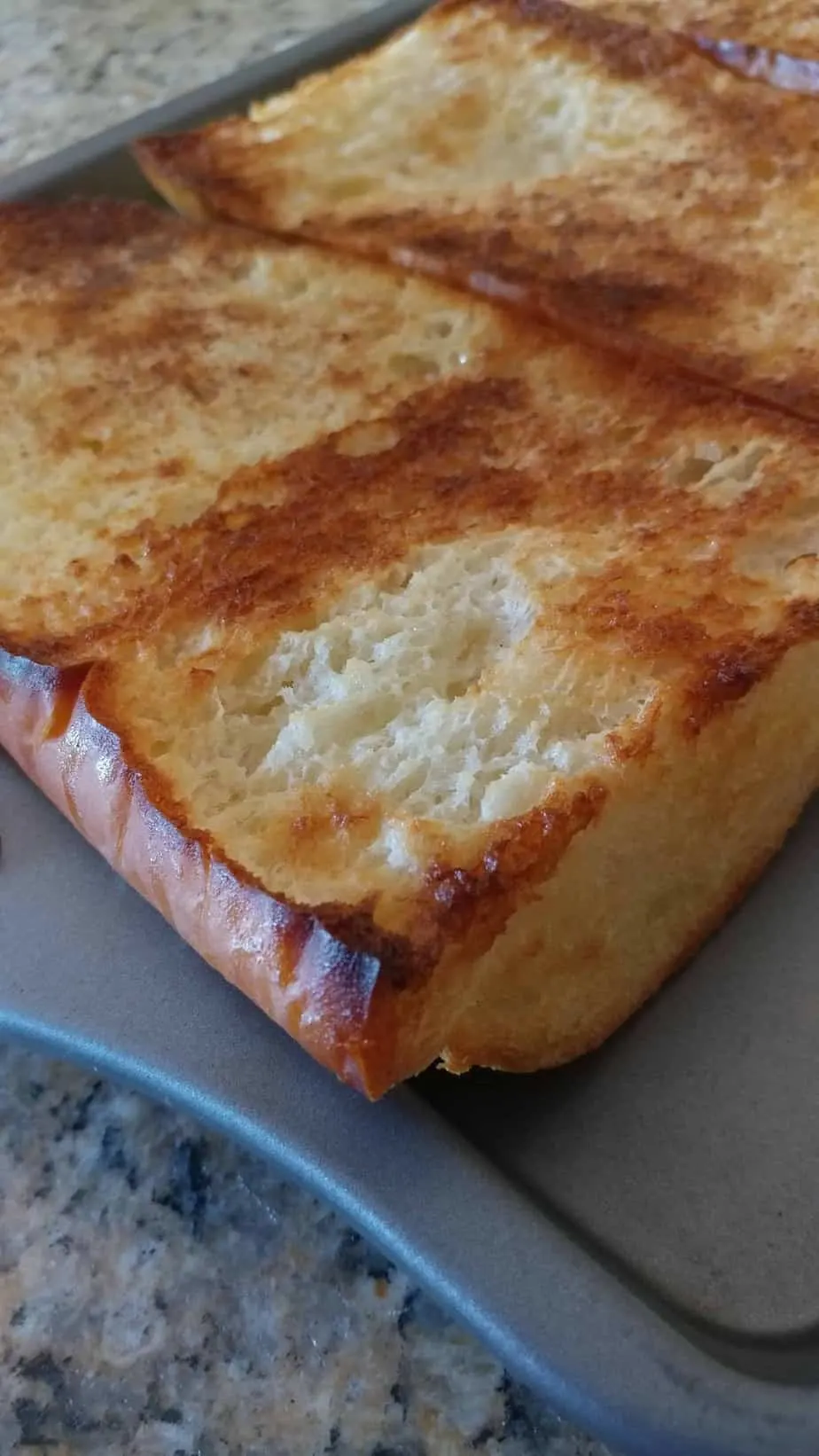 Now pull it out of the oven, and put it onto a large cutting board. We like to slice it into small strips, making it perfect for dipping into your pasta sauce or soup. I usually cut 5 or 6 strips from each piece.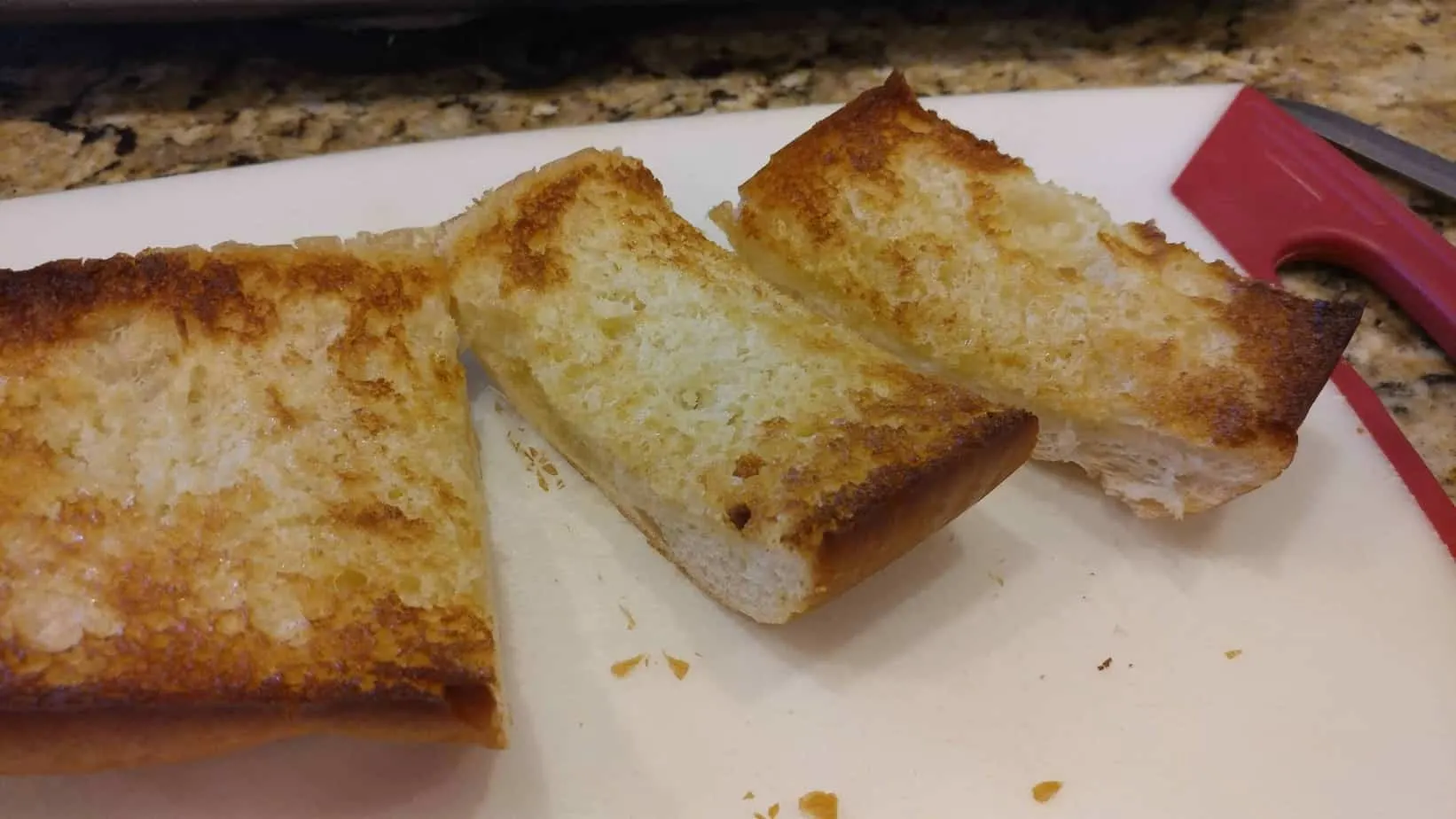 You'll want to serve it immediately to get the most out of that warm, buttery, crunchy goodness.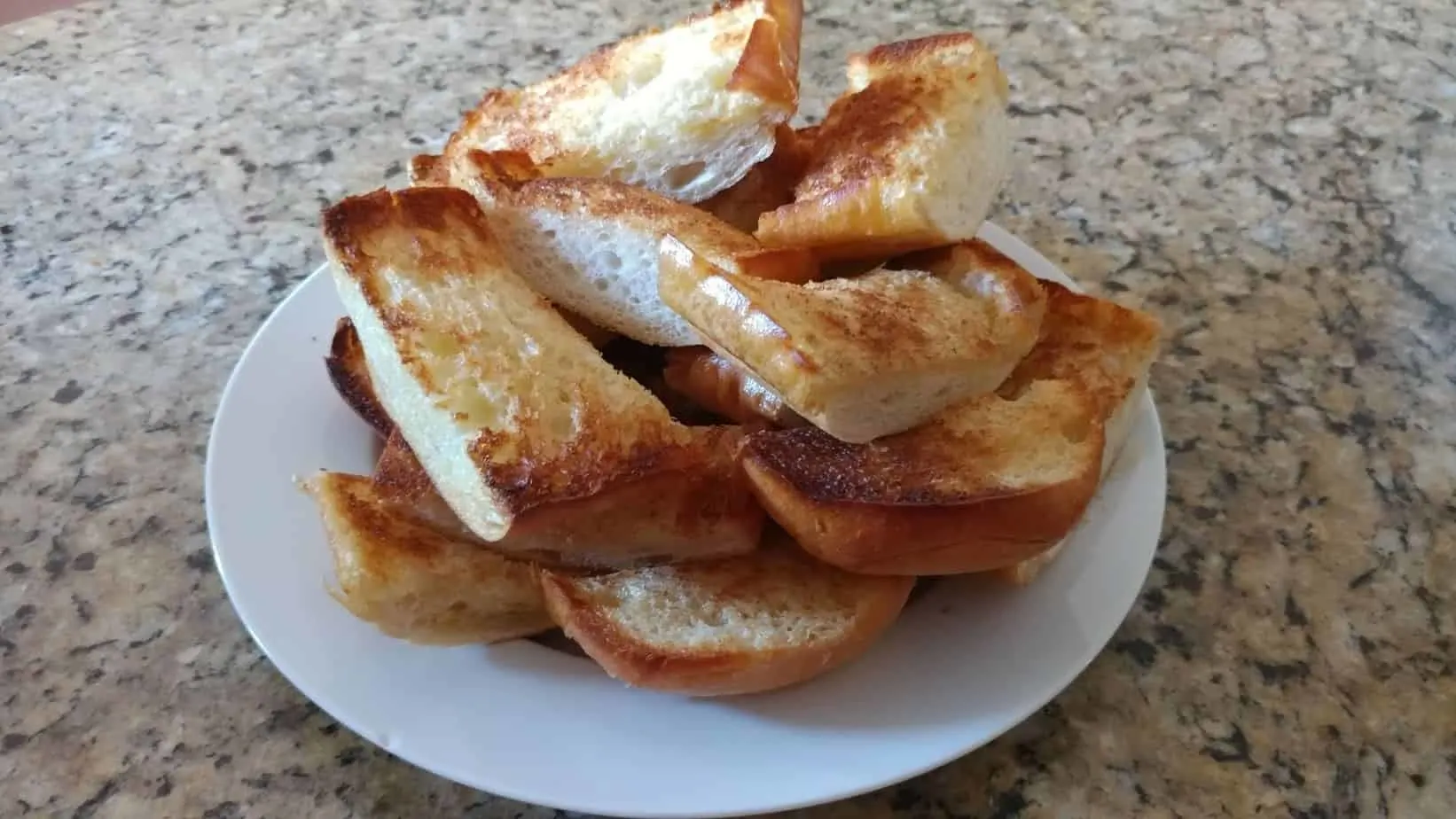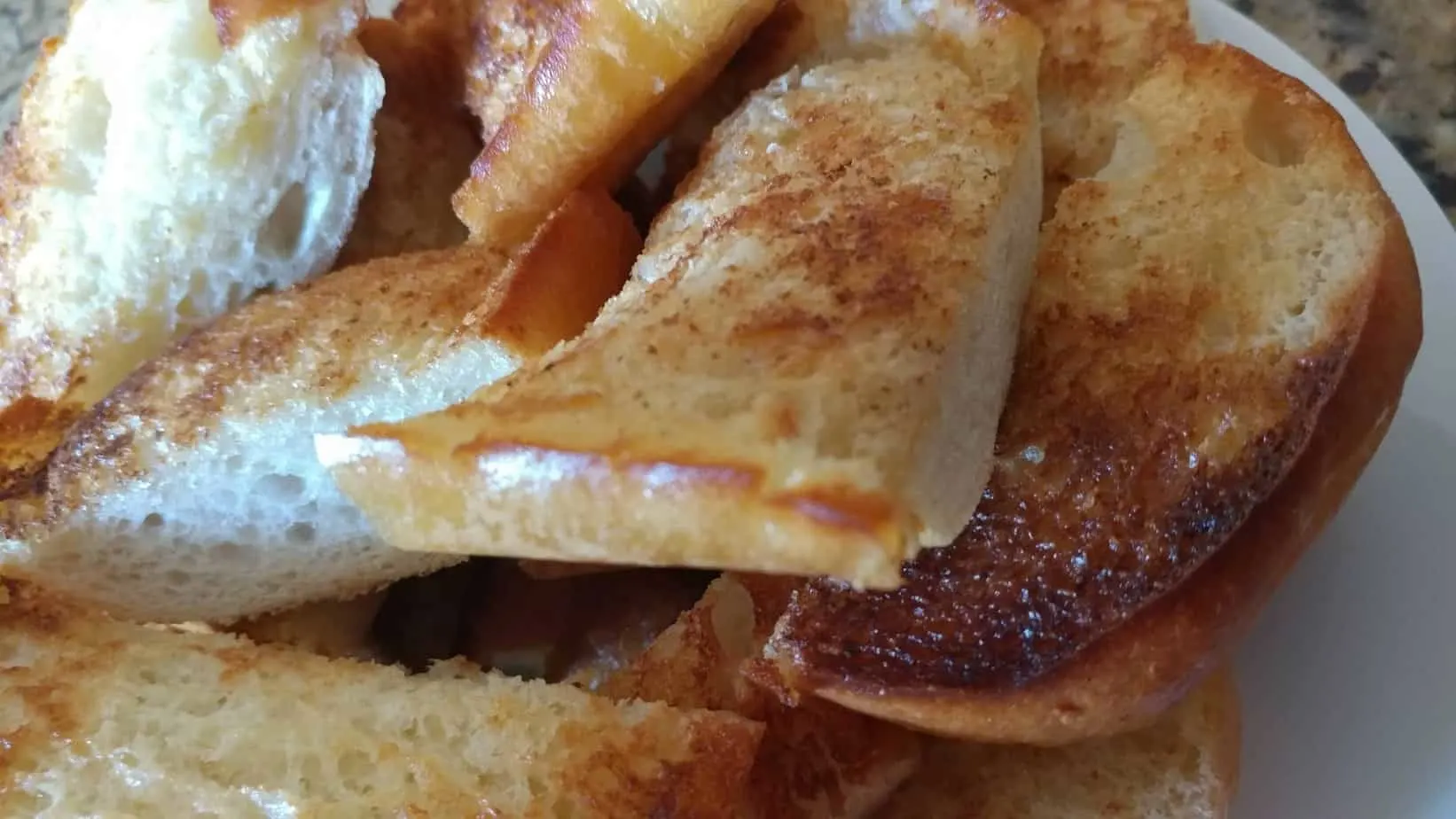 Seriously. Make this recipe. You won't regret it. You can thank me by sharing it with your friends.
Butter Bread
1 loaf french bread
2 sticks salted butter, softened
Pre-heat oven to 375 degrees F.

Cut bread width wise. Then cut bread lengthwise, creating four even pieces.

Spread 4 TBSP (half a stick) of butter on each piece of bread, and place bread on a rimmed baking sheet.

Bake for approximately 10 minutes, until butter is thoroughly melted into the bread.

Turn on the broiler, and toast bread until extremely brown, and edges are almost burned. Watch the bread closely during this step, as cooking times may vary, and bread can burn VERY easily.

Remove from oven, and slice into strips.

Serve immediately.