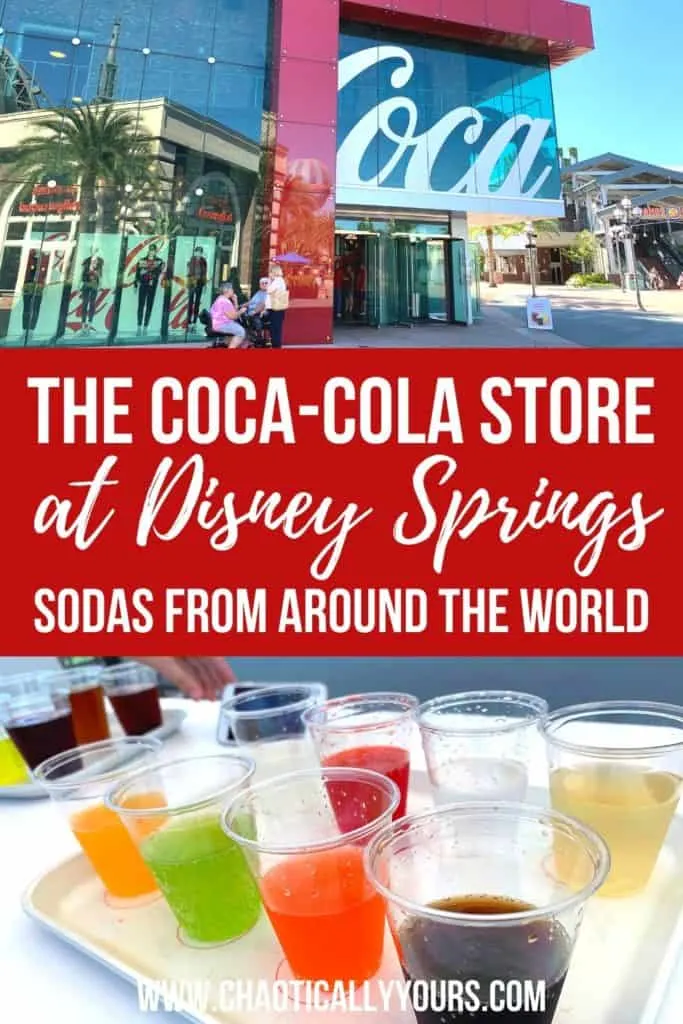 We LOVE to try new things from around the world while we're at Disney, and international soft drinks are no exception!
The Coca-Cola Store
During a recent trip to the parks, my daughter and I found ourselves in Disney Springs on our arrival day with some time to kill before our room would be ready at our hotel. This wasn't a park day for us, so we hopped on a bus and headed over to Disney Springs.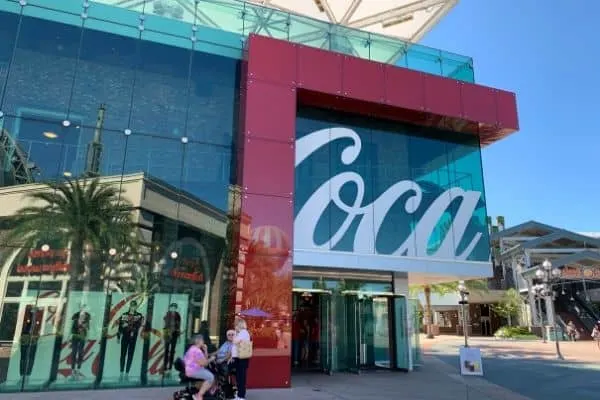 I'd heard good things about the Coca-Cola Store, which is conveniently near where Disney buses drop you off. A friend had posted some amazing pictures on Facebook of some fantastic looking floats! I definitely wanted to check this place out, so we went directly there.
Y'all! This store is MASSIVE!! Two floors of merchandise and a rooftop bar! If you love Coca-Cola, this place will blow you away.
They had any and every Coke themed item you could ever want! We saw SO MANY DIFFERENT items. It was frankly a little overwhelming!
But we didn't spend much time browsing. We hit the elevator and went straight up to the rooftop bar.
The Rooftop Bar
This place was amazing as well! With panoramic views of Disney Springs, including a great view of the Aerophile (the giant hot air balloon at Disney Springs)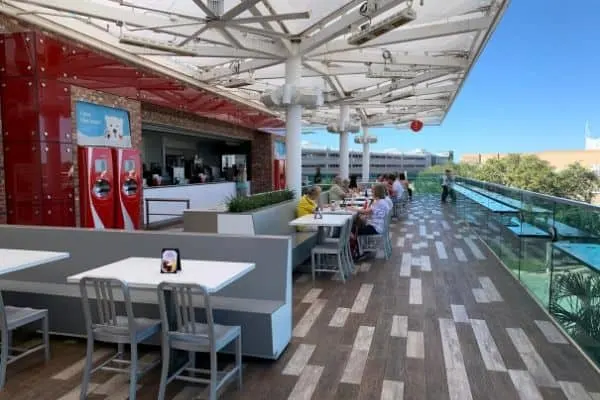 The menu was a little confusing. It was displayed on a very large tv screen behind the counter, and the picture kept alternating between menus. Just when I'd get half way through considering an item, it would switch to the other menu.
MANY of the items were alcoholic, after all it is a bar. But since I was with my 12 year old, AND it was 10 am, I passed on the those, even though some sounded amazing!
International Soft Drinks
I finally got tired of trying to find what I was looking for and just asked the attendant if they had a sampler. She very sweetly told me about the types they offer, and my daughter and I chose the International Tray, a sampler flight of 16 different and unique international soft drinks.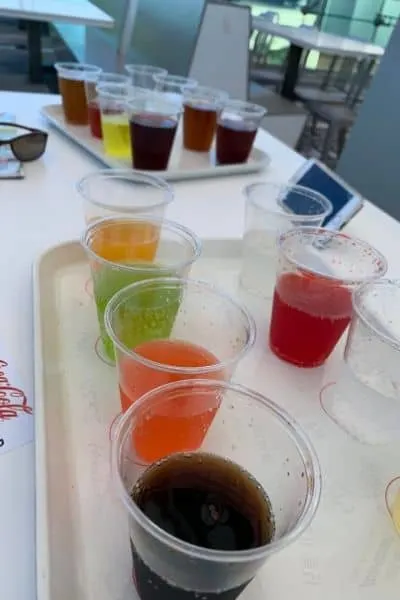 Our International Tray was actually two trays, each marked with eight numbered circles that corresponded with a list of flavors. Tray 1 featured the following international soft drink flavors:
Stoney Tangawizi from Tanzania
Fanta Exotic Fruit Punch from Uganda
Bon Bon Anglais from Madagascar
Frestea Green Honey Tea from Indonesia
VegitaBeta from Japan
Fanta Apple Kiwi from Thailand
Smart Watermelon from China
Thums Up from India (no, that is not a typo)
Tray 2 featured these international soft drink flavors:
Beverly from Italy
Aquarius Libre from Spain
Fuze Berries Tea from Georgia
Sunfill Black Currant from Mauritius
Lift Manzana from Chile
Bjare Lingonberry from Sweden
Inca Kola from Peru
Delaware Punch from Honduras
Apparently, they periodically rotate flavors in and out of the offerings, so if you've done it before, you'll likely have a different experience if you try it again.
Most of the international soft drinks were quite enjoyable. Especially the Smart Watermelon, the Aquarius Libre, and the Inca Kola. There were a few stinkers in the group, especially the infamous Beverly.
The Beverly
As an experienced Disney World traveler, I was a little horrified to see the Beverly on the list. If you ever visited the former Cool Club in Epcot, you'll understand my trepidation.
The Cool Club was an area in Epcot sponsored by Coca-Cola where you could sample sodas from around the world in tiny little cups. The room was filled with drink dispensers, and you could sample to your heart's content. The floor was always sticky, but for free soft drinks, who really cares?
The Beverly has a reputation for being the WORST soda ever! As international soft drinks go, I don't know what the makers of this product were thinking. I have never met a single person who ever liked it.
For those in the know, it was always a GREAT trick to offer it to some unsuspecting person who was with you, and tell them it was awesome. Then just sit back and watch their reaction.
We did this several years ago to our 18 year old nephew and I WISH I had gotten his reaction on video. It was spectacular.
Unfortunately, Cool Club is gone, but it was very nostalgic to find this new way of sampling all these flavors at the Coca-Cola Store in Downtown Disney.
Anyway, the Beverly was included in our sampler, and even though I knew what was coming, it was still fun to try. As you can see in the video clip of our taste of the Beverly, it still has that same disgusting effect.
The full video of our international soft drink taste testing experience is available on
my YouTube Channel HERE.
We really enjoyed doing this together on our Mother Daughter trip to Disney World. My 12 year old even ranks this experience to be more fun that Mickey's Very Merry Christmas Party!
If you have kids who are adventurous (and you don't mind sharing cups with them), this is DEFINITELY a fun and relatively inexpensive activity.
We paid $15 for our experience, and that included a really nice 8×10 photo of us. The sodas are available without the photo for a lower price, the photo turned out so nice, we think it was worth the extra money.
As with all things at Disney World, the Coca-Cola rooftop bar can get exceptionally crowded at times. We showed up at 10 a.m. on a weekday, just as they were opening and were the only customers there for quite some time.
It was really enjoyable to have the place to ourselves, and I'd recommend going early and avoiding weekends.
Just across the way from the Coca-Cola Store in Disney Springs is Chicken Guy, a quick service restaurant by Guy Fieri. Check out my full review of it HERE.