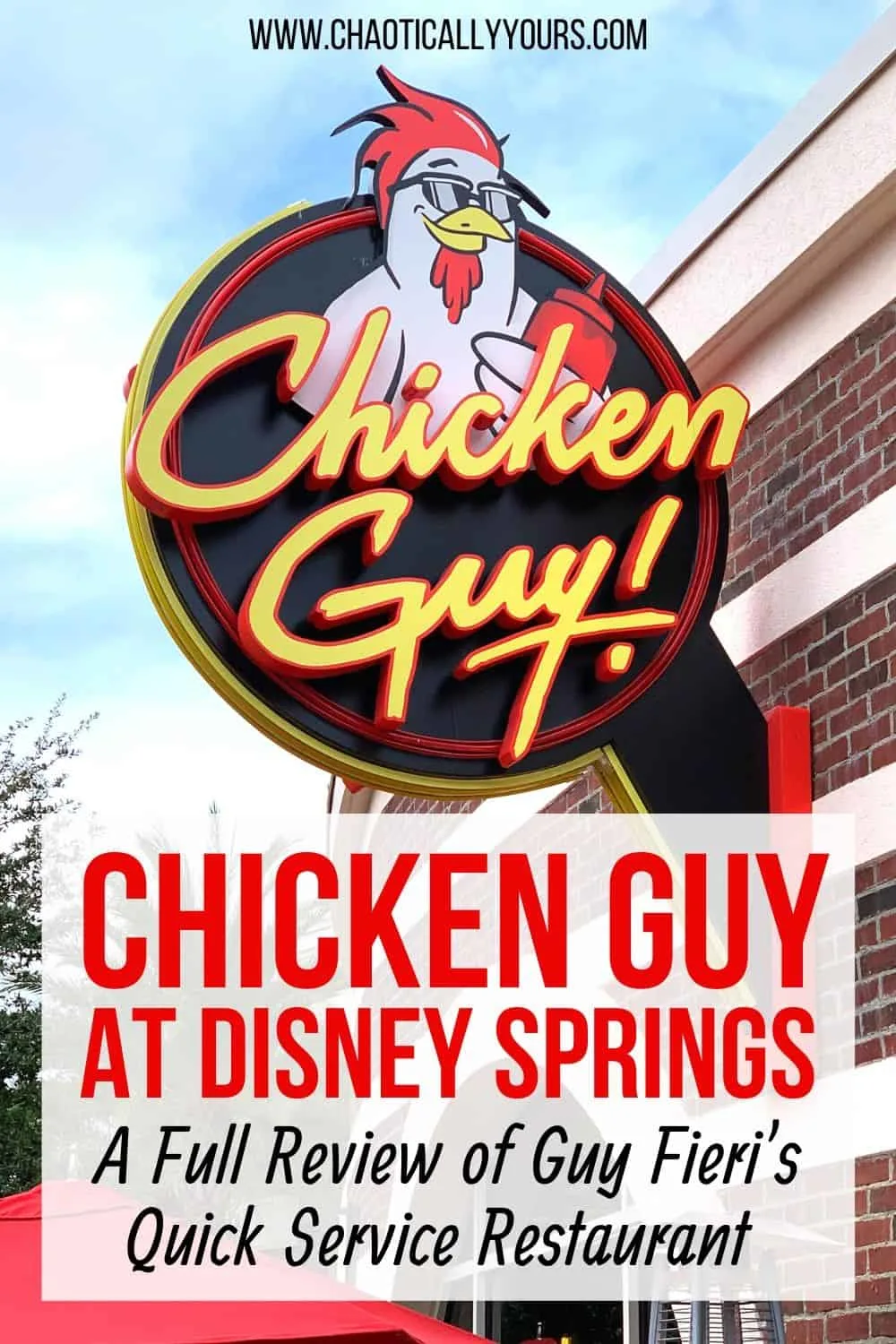 Chicken Guy Disney Springs.
It sounds like a sitcom or punchline to a joke, but it's not. It's a quick service restaurant chicken restaurant on Walt Disney World property brought to you buy non other than chef, restaurateur, and Food Network personality Guy Fieri.
Guy Fieri is known for his Food Network shows, specifically Diners, Drive-Ins, and Dives, a show dedicated to small, but exceptional local restaurants all around the country.
He arrived on our televisions as a contestant on Season 2 of The Next Food Network Star back in 2006 (a show that he won, BTW), but Fieri already had an extensive culinary education and history before appearing on the network.
He lends his name and signature blond-spikey haired image to numerous restaurants in cities around the world including California, New York City, Las Vegas, and even aboard Carnival Cruise Ships.
So with a resume as long as this, his first foray into a restaurant on Disney property, even a quick service one, had a lot to live up to.
The Chicken Guy Disney Springs restaurant opened in August of 2018, so they've had a full year to master operating in a crowded and busy place like Orlando. With lots of options available to visitors, you have to be good to keep up in this market.
We've had excellent meals at lots of quick service places in the Disney Springs area. We've had great experiences at Cooke's of Dublin, Wolfgang Puck Express, and Earl of Sandwich, just to name a few. Chicken Guy had big shoes to fill in our eyes.
During a recent visit to Disney Springs, my daughter and I tried Chicken Guy and had a lot of thoughts on our experience there. Here's our full Chicken Guy Disney Springs review.
We made our visit for an early lunch at about 11:20 on a Wednesday morning. We took it as a good sign that the dining room was already hopping and lots of diners seemed to be enjoying their food already.
We were conveniently handed a menu as we walked in the door, but the information was also clearly posted on the wall. The menu was relatively simple, featuring a combination of chicken sandwiches, chicken tenders, a few salad options, a short list of classic sides and a couple of desserts.
The prices were reasonable for the area and had great options for kids and adults alike.
The menu looked great, but the real star of the show here was obviously the sauces. One entire side of the menu was devoted to describing the 22 different sauce options available at the restaurant.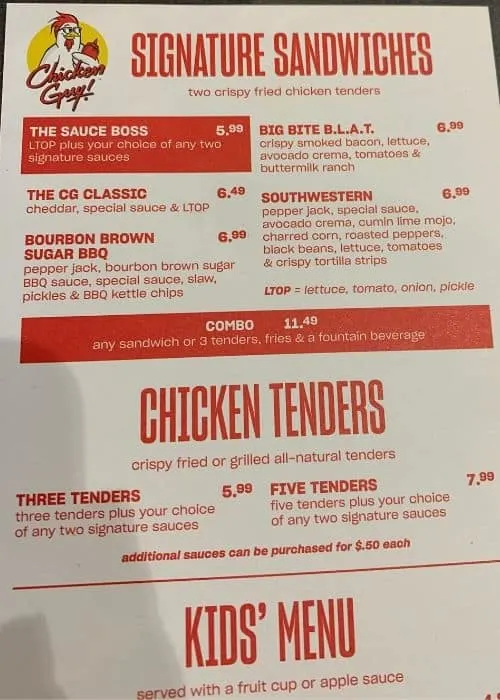 The Chicken Guy website has this to say about their sauce options:
"They don't call Chicken Guy! the Boss of Sauce for nothin'! From chef Guy's greatest hits to internationally inspired culinary creations, we've got over 407,560,8180 sauce combinations for you and we're here to help you try 'em all. Get your sauce on!"
With anything from asian to mexican options, there's definitely a sauce for everyone's tastes on this extensive list. They were broken down into three sections.
Here's what was offered:
Guy Favorites:
Special Sauce
Donkey Sauce
Chipotle Ranch
Ranchero
Curry Mayo
Wasabi Honey
Cumin Lime Mojo
The Classics:
Bourbon Brown Sugar BBQ
Buffalo
Bleu Cheese
Buttermilk Ranch
Lemon Pepper
Honey Mustard
Teriyaki
Garlic Parmesan
Sweet 'n' Sour
Avocado Crema
Hot 'N' Spicy
Nashville Hot Honey
Peri Peri
Habanero Hot Sauce
Spicy Mayo
Sweet Sriracha BBQ
A detailed description about each sauce can be found on the Chicken Guy website here.
The sheer amount of choices is almost overwhelming!
After evaluating the menu and the sauce list, my daughter and I decided to order what would allow us to really try and evaluate the star of the show: The Sauces.
So we both ordered the chicken tenders and fries. Simple, I know, but my daughter and I happen to be chicken tender connoisseurs.
We have favorite in our local area. (She loves Chick Fil A, I'm a fan of Zaxby's, we both like Bojangles, and we agree the PDQ is gross!) I even have a favorite recipe at home that she swears is her favorite dish I make.
Each order of three chicken tenders comes with two sauce choices, so we selected four different sauces to try: Donkey Sauce, Teriyaki, Sweet 'N' Sour, and Nashville Hot Honey.
We could have tried more, but I didn't want to totally overwhelm my taste buds, and each additional sauce was $0.50 each, which can add up quick if you're on a budget.
We made our way through the short, fast moving line, and ordered at the register.
We each ordered a combo that included 3 tenders, fries, and a fountain drink for $11.49. Our total bill for the meal came to $24.48, which isn't too bad for a full meal including fountain drinks in the Disney Springs area.
We were handed a buzzer and told our meal would be out shortly.
We went to find a table in the very clean dining room, and before we could even grab our drinks, our buzzer started going off and our food was brought to our table.
The food was hot and ready to eat. All four sauces we'd ordered were there, plus some ketchup, that we hadn't even requested. (My daughter was thrilled with this since she's 12 and ketchup is still her go-to sauce for almost everything.)
As quick service food presentation goes, Chicken Guy Disney Springs did a pretty good job. The little red paper boxes made the food look appetizing, and left plenty of valuable tray space for those important sauces!
We quickly dug into our orders, trying both the chicken and the fries plain before jumping to the sauces.
We both agreed that the chicken was really good. The meat was tender and not dry at all, while the coating was just the right amount of crunch without being to hard.
As for the fries, they were seasoned, but not in the way we expected. We're used to a spicy cajun seasoning like you find at Bojangles.
This was more of a savory seasoning that made the fries flavorful but not overwhelming. There was no heat to the seasoning on the fries at all.
Next came the much-anticipated sauces.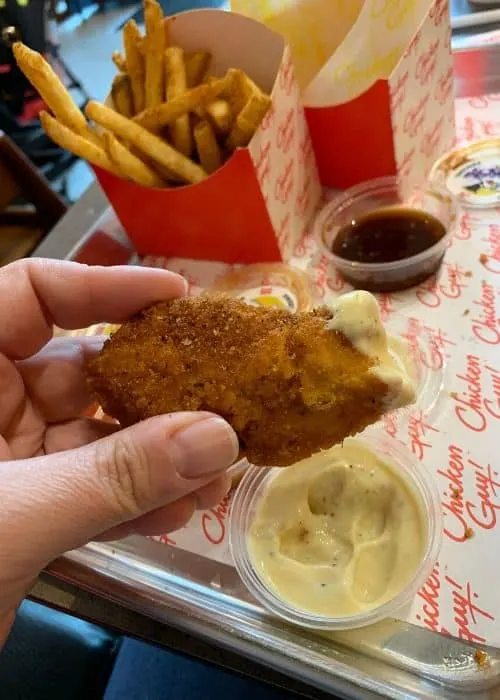 The Teriyaki was quite good. A good balance of sweetness and umami flavors to make a nice compliment to the chicken. I'd give it a 7 out of 10.
The Sweet and Sour was another story. It was way too acidic. Lots of sour and very little sweet. I'd give it a 4 out of 10.
The Nashville Hot Honey was really nice. A good balance of sweetness and heat, although I could have stood a little more spice in this one. 7 out of 10.
The Donkey Sauce turned out to be my favorite. It was very savory and a really good compliment to the chicken. It was also my favorite sauce on the fries as well. I'd definitely get it again. It was definitely a 9 out of 10.
I would love to try some of the other sauces on our next visit to Walt Disney World. When I do, I'll add them to the list here.
All of the food was much better than your average theme park chicken strips and fries. Definitely worth a second visit.
Overall, we were very impressed with Chicken Guy Disney Springs. The value for your money was quite good, and compared to other quick service meals we've had in Disney Springs, it's definitely worthy of it's place at this venue.
For a quick, family friendly meal that's easy on the wallet and tastes much better than your average fast food joint, Chicken Guy Disney Springs is the place for you!
Looking for a high end restaurant to visit during your Disney World vacation? Check out my complete review of California Grill at Disney's Contemporary Resort!
Planning your first visit to Walt Disney World? Learn the 9 Things You NEED TO KNOW Before You Go On Your First Disney Trip!