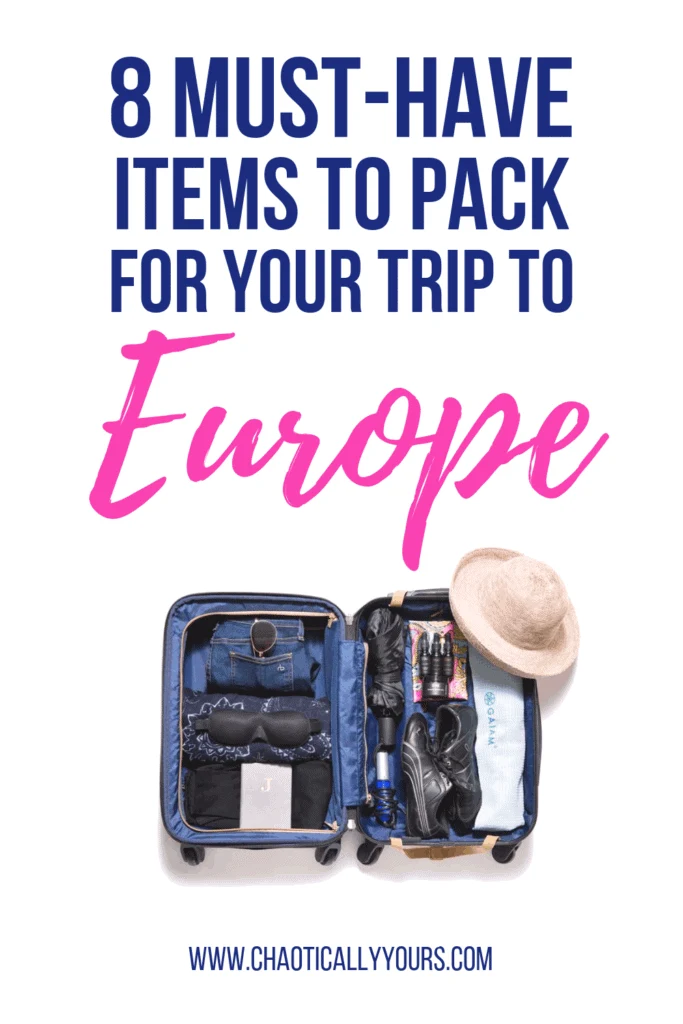 Taking a trip to Europe is a dream vacation for lots of travelers. With so much history and so many destinations, it really is the perfect destination. But in order to have a fantastic trip, there are some things you NEED to bring with you to make your trip flow smoothly.
Here is my list of essential items you can order on Amazon right now and why you need them to make your European get-away perfect!
A re-usable shopping bag – These days, most European countries are pretty environmentally friendly. It's quite common for stores to have a surcharge for plastic bags to carry your goods in. When heading to tour a new place, I always throw a couple of these fabric shopping bags in my purse. They are large and durable enough to hold just about anything, and they fold up to a quite compact little bundle. They wash up beautifully and have proven essential when shopping in Europe.
Reusable Grocery Bags 5 Pack, Grocery Tote Folded into Attached Pouch, Ripstop Polyester Shopping Bags, Washable, Durable and Lightweight (Black,Royal,Navy,Teal,Moss)
RFID Blocking Wallet – Identity theft is a real and common problem. Technology today has enabled thieves to steal your credit card information but just getting close to you, and tourist destinations are a common target for bad guys. Having one of these RFID blocking wallets can help save you the hassle of dealing with identity theft by simply blocking the signal that thieves use to gather the information. The one featured in the link below is specifically great for international travel because it has plenty of space for not just your credit cards, but you passport and cash currency.
Zoppen Mulit-purpose Rfid Blocking Travel Passport Wallet (Ver.4) Tri-fold Document Organizer Holder, Wine Red/Burgundy
Functional Travel Purse – I love beautiful bags as much as the next woman, but my beautiful Coach purse doesn't cut it on a long day of site seeing. You need a lightweight, multi-pocket bag, that you can carry securely to avoid theft. I love this Baggallini travel purse for this purpose. I recently took this model with me on a six day trip to Scotland, and it functioned perfectly. The long adjust able strap was great for putting it in the perfect position for wearing it across my body (the safest way to carry a purse to prevent theft). The multiple pockets helped me stay organized with all the things I needed for a day of touring, and it even has side pockets that are the perfect size for carrying a bottle of water. It's super light weight, and just the right size.
Baggallini Everywhere Travel Crossbody Bag, Charcoal, One Size
Headphone Splitter – I am a terrible flyer. I usually can't sleep at all, and get really nervous on planes. I don't let that keep me from traveling though. The best way I've found to get over my nerves it to watch a good movie or listen to a book. Often my husband likes to watch or listen to the same thing, so these headphone splitters are a great way for us to share a device while on a plane. They plug right into the headphone jack, and allow you to use two sets of earbuds for the same device. Definitely a must-have on a long trip.
Headphone Splitter, Syncwire Nylon-Braided [0.75FT/23CM] Stereo Audio Y Jack Splitter / 3.5mm Male to 2X 3.5mm Female Audio Splitter for Apple, Samsung, Smartphones, Media Players & More – Black
Portable Battery Charger – These are life-savers! When I am traveling, I used my cell phone constantly. From the local transportation app to my camera, my cell phone is essential to a great trip. There is nothing worse than not having battery life when you need it! These portable chargers solve that problem. This particular model holds 10,000 mAh of power, which can refill my phone battery three times before the charger needs to be recharged. They're great for any electronic devices that use a USB cord to charge.
Anker PowerCore 10000, One of The Smallest and Lightest 10000mAh External Batteries, Ultra-Compact, High-Speed Charging Technology Power Bank for iPhone, Samsung Galaxy and More
Power Adapter Plug – European countries use different types of plugs than we do here in America. Having a power adapter is absolutely essential to being able to recharge or use anything you need to plug in while in another country. I love this model because it not only will universally adapt to any type of plug in the UK, Europe, or Australia, it also has USB plugs to make charging electronic devices that much easier.
NEWVANGA International Universal All in One Worldwide Travel Adapter Wall Charger AC Power Plug Adapter with Dual USB Charging Ports for USA EU UK AUS European Cell Phone Laptop
Packing Cubes – Going on an extended trip sometimes makes packing difficult. The best solution to making a lot of stuff fit in a small suitcase is to use a packing cube system. These light weight fabric cubes fit tons of stuff and really help you stay organized when trying to fit it all in.
Shacke Pak – 4 Set Packing Cubes – Travel Organizers with Laundry Bag (Aqua Teal)
The Perfect Under-Seat Carry-On – On international flights, most airlines allow one overhead carry-on bag, one under-seat carry on bag, and a personal item such as purse. The key to packing light is to have the perfect luggage. After much searching, my husband and I have found what we consider to be the perfect under-seat bag. It's large enough to hold a complete change of clothes, all your toiletries, and lots of other essentials. It has a ton of pockets to keep you organized. It has wheels if you need to roll it, and it fits PERFECTLY under an airplane seat. This is seriously the best bag we've found for travel. We only bought one before our last trip, and we were arguing over who would get to use it on the plane! It's that good!
Samsonite Wheeled Underseater Small, Black, One Size
All of these items are super helpful on any international trip, and they are all available through Amazon.com with FREE shipping for Prime Members! Not an Amazon Prime Member Yet? Use this link to sign up and get almost 50% off the monthly membership fee!!!
Try Prime Discounted Monthly Offering
What are your "must-haves" for travel? Leave them in the comments for me!!
ChaoticallyYours.com is a participant in the Amazon Services LLC Associates Program, an affiliate advertising program designed to provide a means for sites to earn advertising fees by advertising and linking to Amazon.com. This means that I earn a small commission from any sales made through these links.