Over the past 5 years, I've created hundreds of pieces of string art, but this Mason Jar String Art project is by far one of my favorites. .
It's a fun craft and you can create simple or elaborate pieces of art once you learn the technique.
I enjoy it so much that I decided to write a beginner level tutorial, so you guys can learn to do this yourself!
DIY Mason Jar String Art Tutorial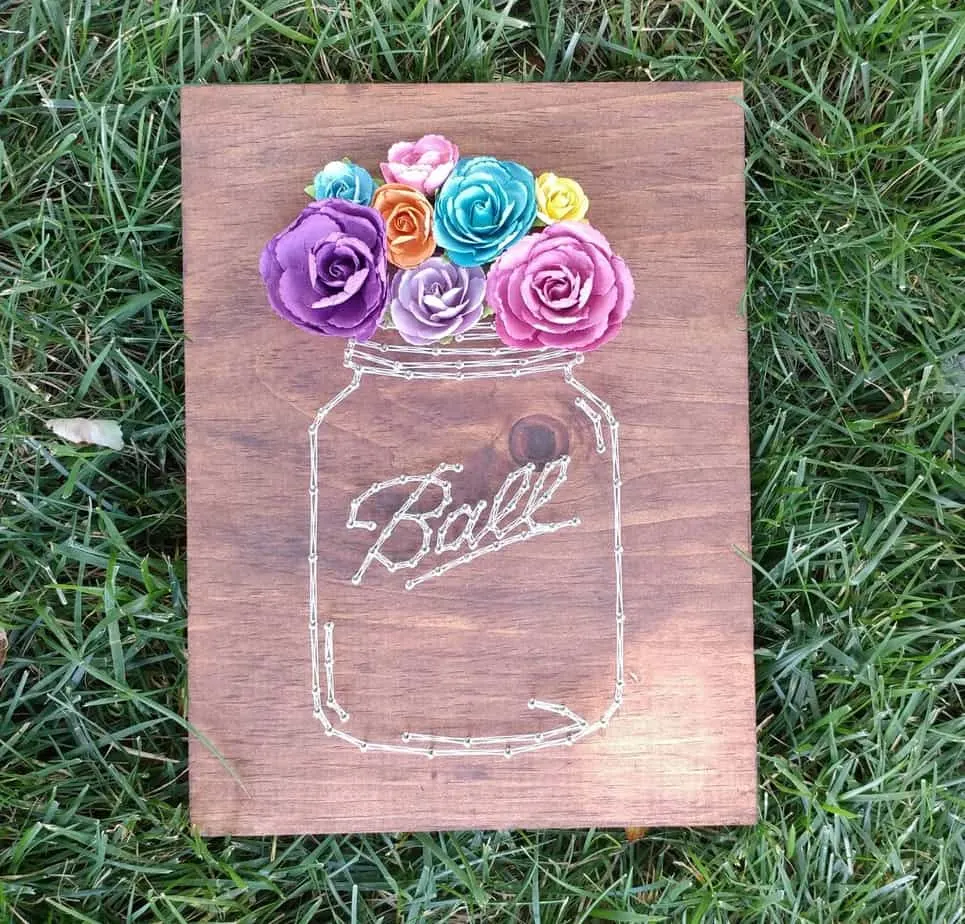 The first step is to gather your supplies.
You may already have a lot of these things around your house.
For what you don't already have, you can get the majority of them on Amazon. I'm including links for as many of the supplies as I can.
What you can't purchase on Amazon can be found at almost any craft store, like Michael's, Hobby Lobby, A. C. Moore, and sometimes even Wal-Mart.
Links in this post may be affiliate links, which means I may earn a commission if you make a purchase from any of them, at no additional cost to you. You can find out more information by reading my full disclaimer.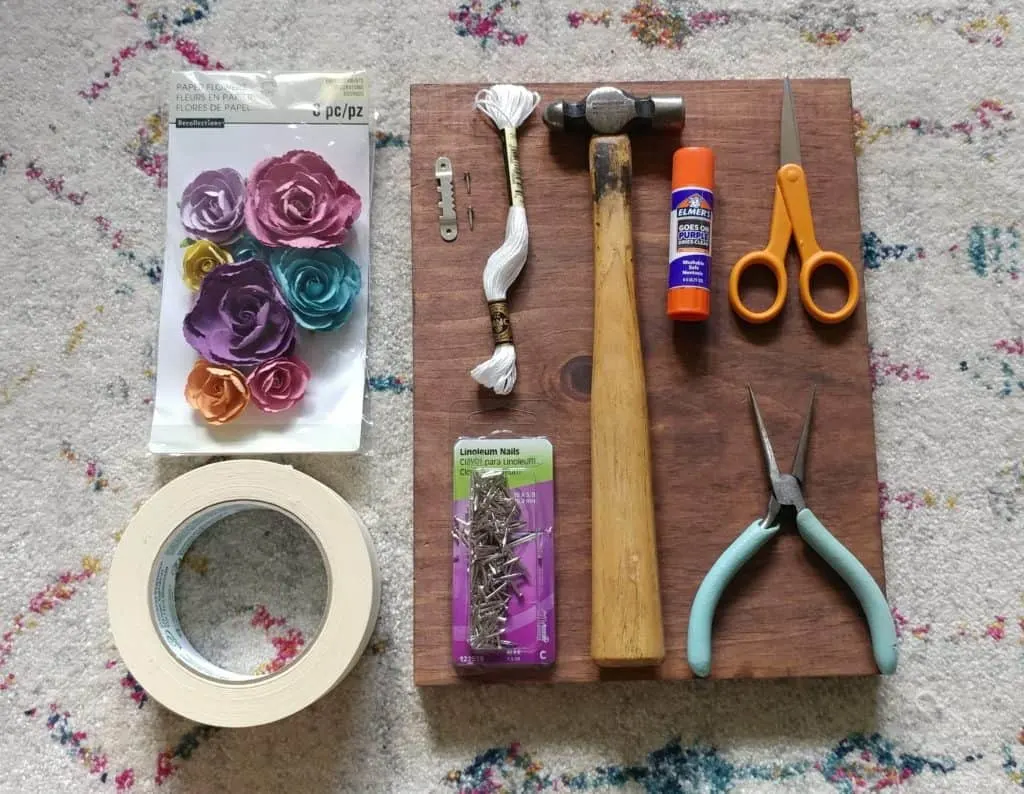 Supplies
You'll need:
One wooden board, minimum of 8 x 10 inches. My husband custom cuts mine for me for me, but you can purchase one here:
Walnut Hollow Basswood Rectangle Plaque, 8″ x 10″
One hammer. I prefer the size and weight of a small ball pein hammer. It's large enough to get the job done, but light enough not to damage the wood much if you happen to accidentally hit the board while you're nailing. I recommend this one:
Vaughan S016 16-Ounce Hickory Handle Super Steel Ball Pein Hammer, 13 3/4-Inch Long
Needle nose pliers. You'll need these to hold the nails while you hammer, so they go in straight and you don't hit your fingers when you hammer. Trust me. These are essential, and make the process SO much easier! These are very similar to the ones I use:
Dykes Needle Nose Pliers Extra Long Needle Nose Plier (6-Inch)
Small nails – I like Linoleum nails. Other people use trim nails, wire nails, escutcheon pins, or shade bracket nails. Whatever you choose, make sure you like the finish on the top. That's what will be visible in your final piece. You can find linoleum nails here:
The Hillman Group 532425 Linoleum Nail
Sawtooth hanger – these come in packets of four to six. I use this kind:
ARROW 161000 Small Saw Tooth Picture Hangers (Pack of 6)
Craft glue – I prefer Alene's Tacky Glue. It's super secure and easy to use. I totally messed up and forgot to put it in the picture of the supplies. Oops!! You can find it here:
Aleene's 33143 Original Tacky Always Ready Adhesives, 4 oz.
White embroidery thread – I use DMC brand embroidery thread, available at any craft store or at Wal-Mart. Don't order this online. They're usually less than $0.50 per skein at any of these stores.
Glue stick – I like the kind that starts purple and turns clear as it dries. Again, buy these at your local dollar store or Wal-mart.
Paper flowers – These can be found in the scrapbooking section of any craft store. I purchased this particular kind at Michael's.
Masking tape – readily available at your local Walmart
Scissors – just use whatever you have lying around the house.
From start to finish, a piece like this takes me about an hour, but if you're a newbie to string art, allow yourself more time.
FREE Pattern
Once you've gathered all your supplies, download and print this template.
You can use this link to download it:
Mason Jar String Art Template
Once you've printed the template, trim it along the black lines and tape it to your board with the masking tape. It will look something like this: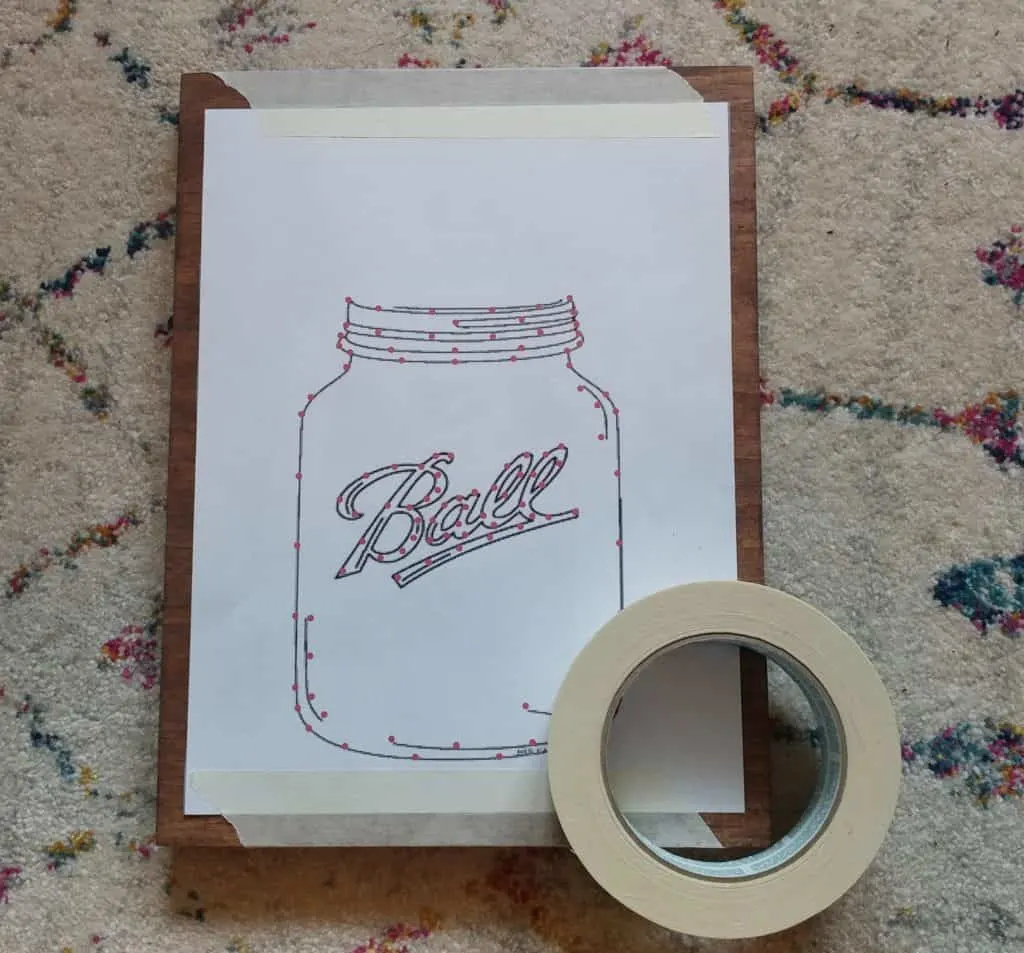 Nailing
Next, use the needle nose pliers to hold your nails, and hammer a nail into each orange dot.
The pliers help keep the nail straight and also help keep you from hitting your fingers!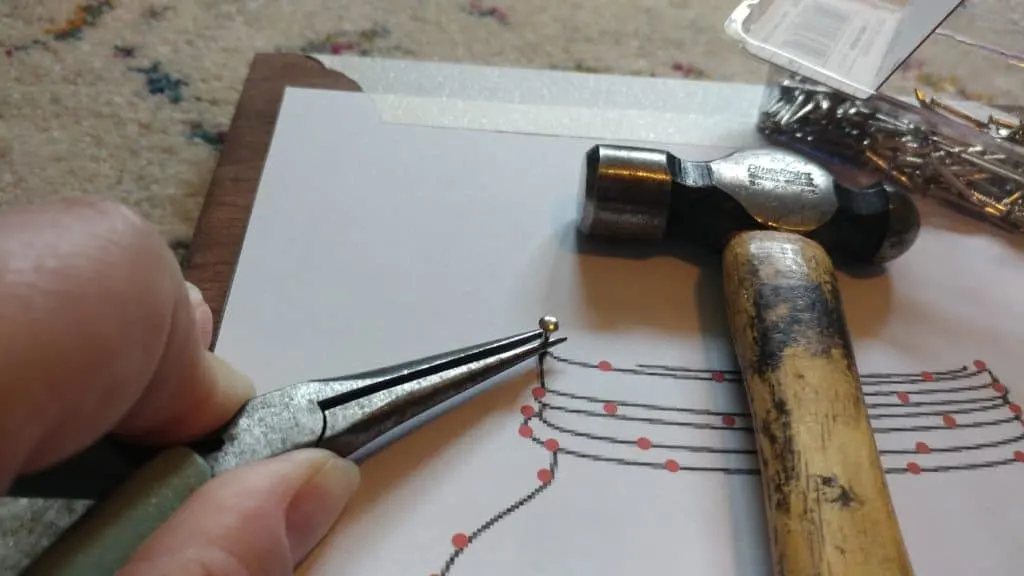 Once you've hammered in all your nails, your board should look something like this: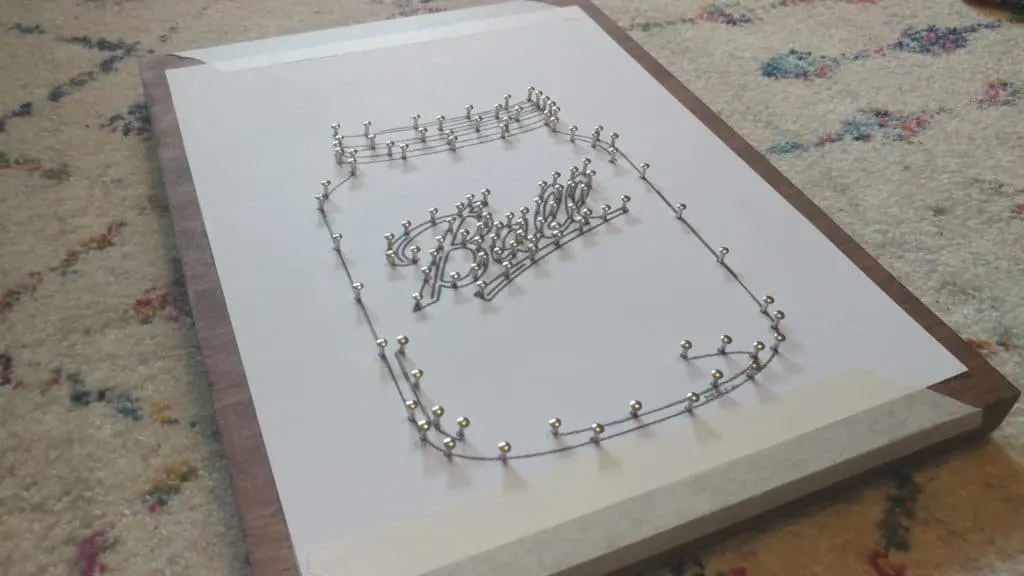 VERY GENTLY, remove the tape and pull the paper template up.
If you pull to hard or too quickly, you could remove the nails, and you're more likely to leave little bits of paper behind that can be difficult to remove.
You also want to keep your template as intact as possible so that you can use it as a guide when you start to string your piece.
Once your template is removed, your piece will look something like this: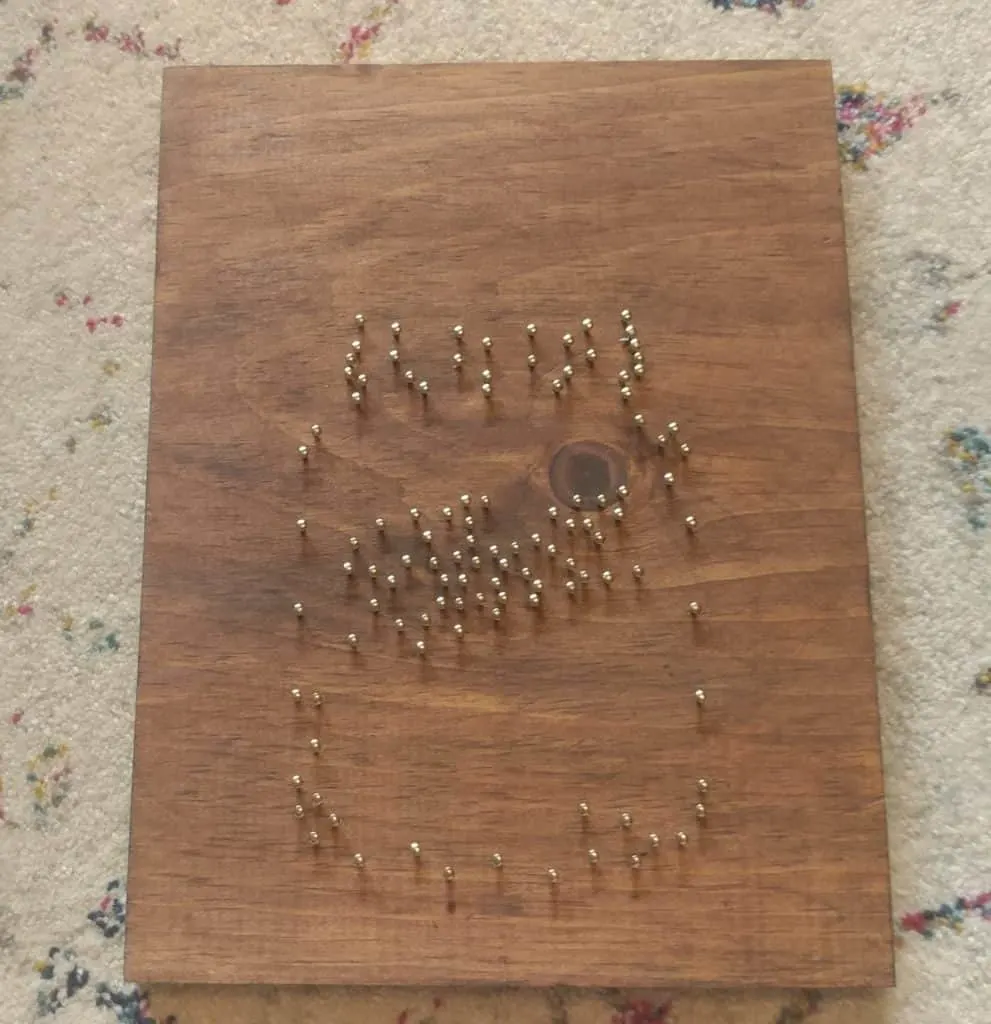 You'll want to take a good look at your board and your nails, and make sure you pull out any little pieces of paper that may be stuck on your nails.
The needle nose pliers come in super handy for this!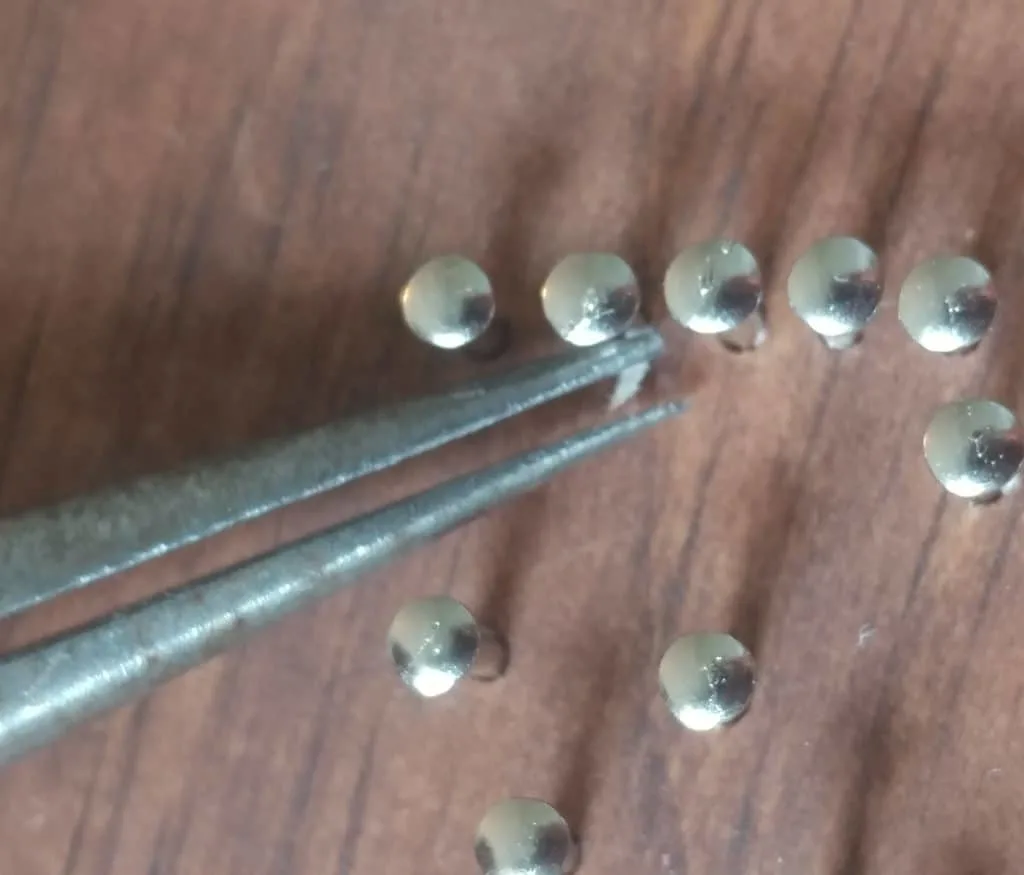 Stringing
Next comes the fun part, when your piece really starts to take shape.
Take your embroidery thread, and unroll the entire skein.
Then gently pull one strand out.
You can use the bundled strand, but I think the single strand is easier to work with and gives the piece a more delicate look that resembles the glass jar you're going for here.
Be sure to pull gently and slowly, so the strings don't get tangled.
It usually looks something like this while I'm pulling it: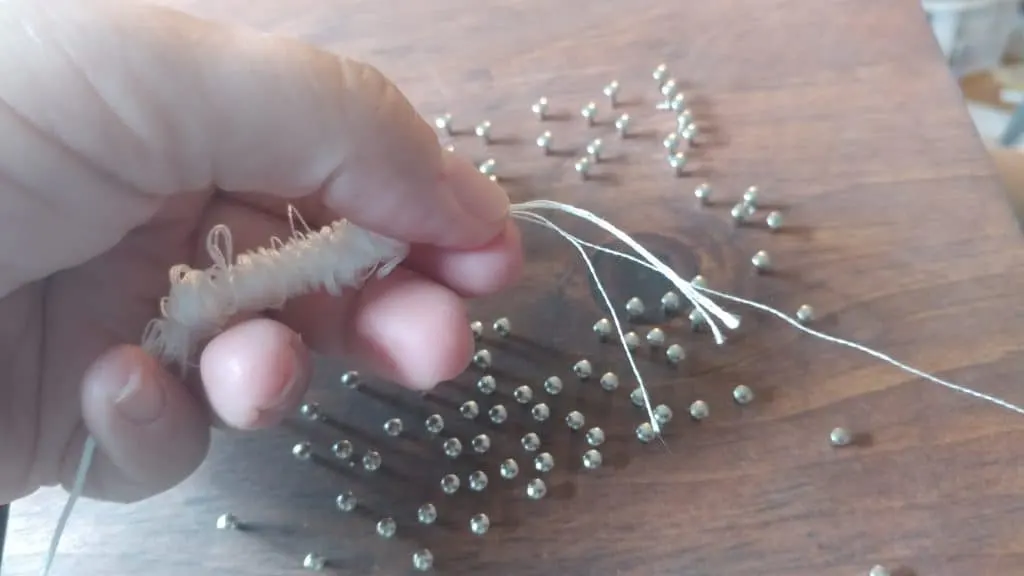 Next, tie the end of your single strand to one of your nails.
I find that the top left nail of the jar is a good place to start on this design.
There will be several sections of string art that you need to finish on this piece, so finding a good stopping and starting point is key.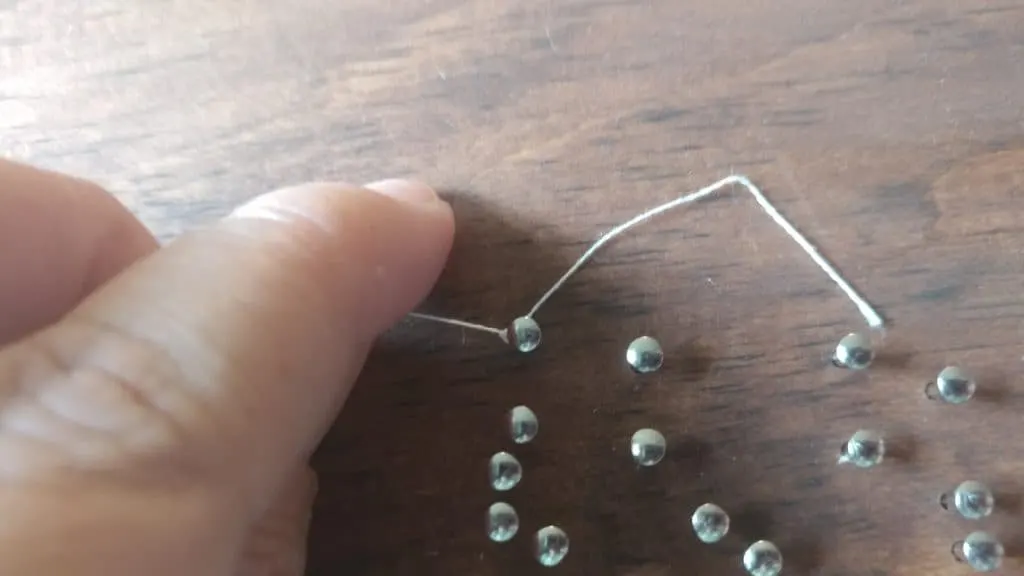 Once my string is secure, I start stringing my piece by wrapping the thread around each individual nail.
I use a crisscross pattern to create the lines in most of my string art pieces, as seen in the pictures below, but you can use any type of stringing pattern that works for you.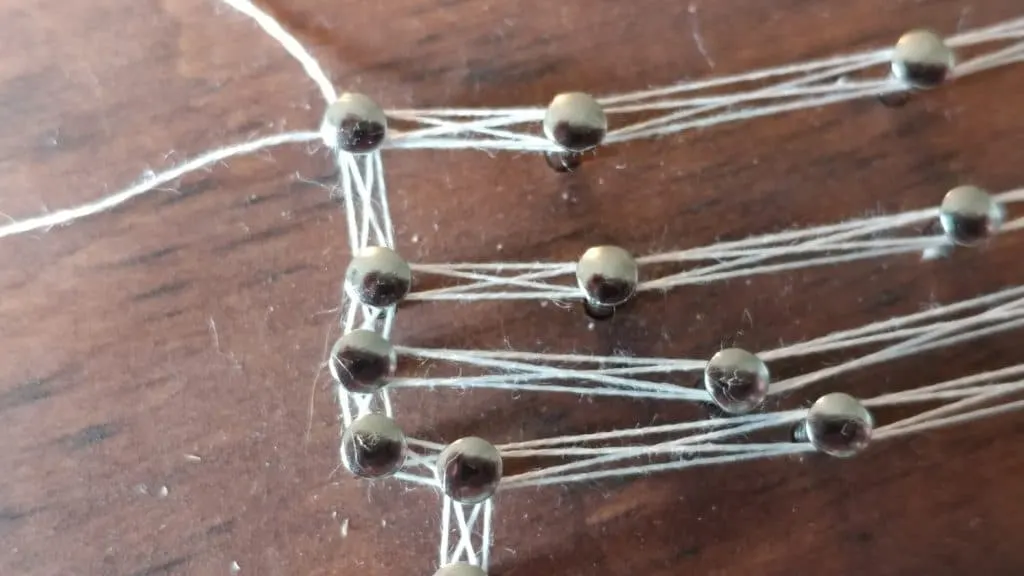 I've received lots of requests for a video of how to do this criss cross stringing technique.
One is now available on my Snowflake String Art tutorial.
Be sure to use your template to see which nails need to be connected and which ones don't.
Basically, wherever there's a black line on the template, you should connect the nails.
It can be kind of confusing at times, but if you take your time and follow the template, it shouldn't take very long.
The most complicated part of this piece is the "Ball" logo in the center.
It can be hard to see where the string goes, but I promise, it starts to make sense as you move along with the piece.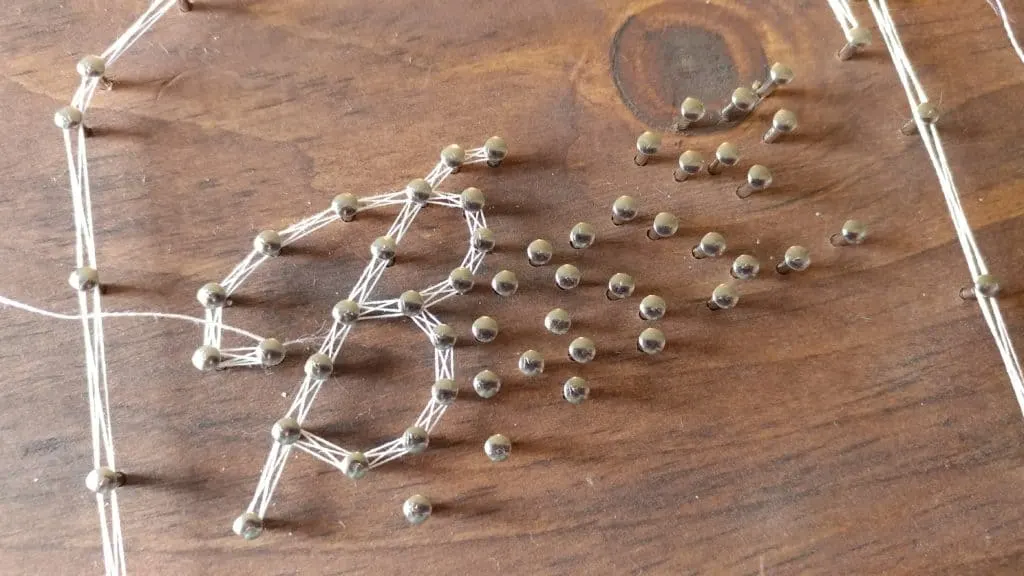 When you reach the end of your string, or when you've connected a section, simply tie the string off to the nail, leaving the ends long. It should look something like this: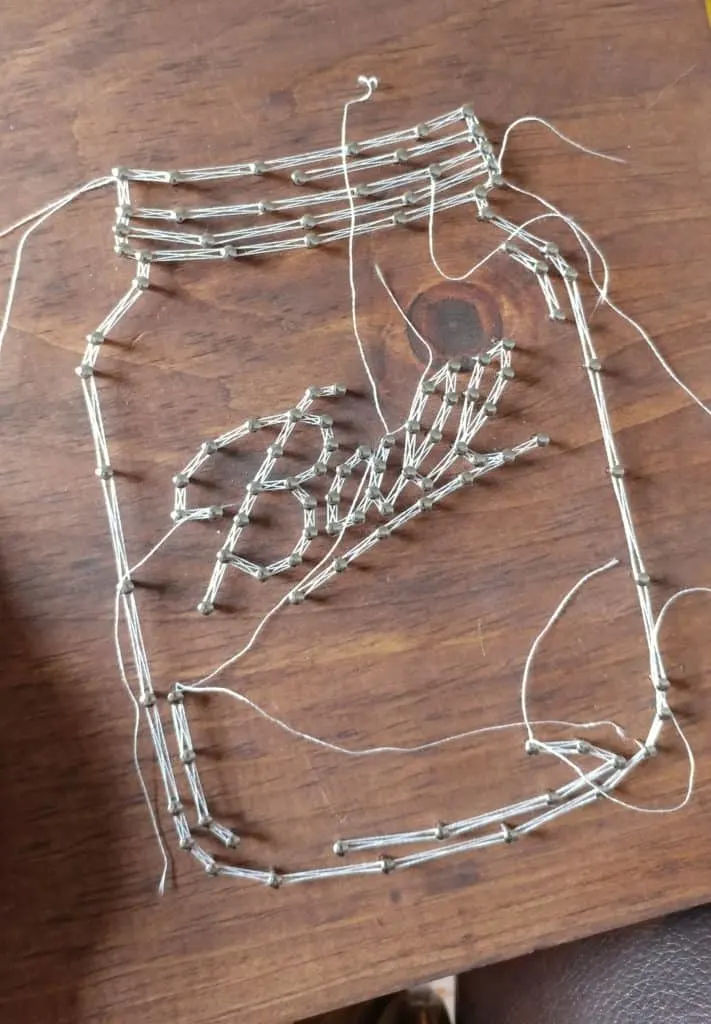 Here's a time lapse video of the entire stringing process:
Clean Up
You'll then want to use your scissors and your glue stick to trim and glue your ends.
I do each one individually, to make sure that I don't miss any ends.
First I trim the tied off string down to about a 1/4 inch.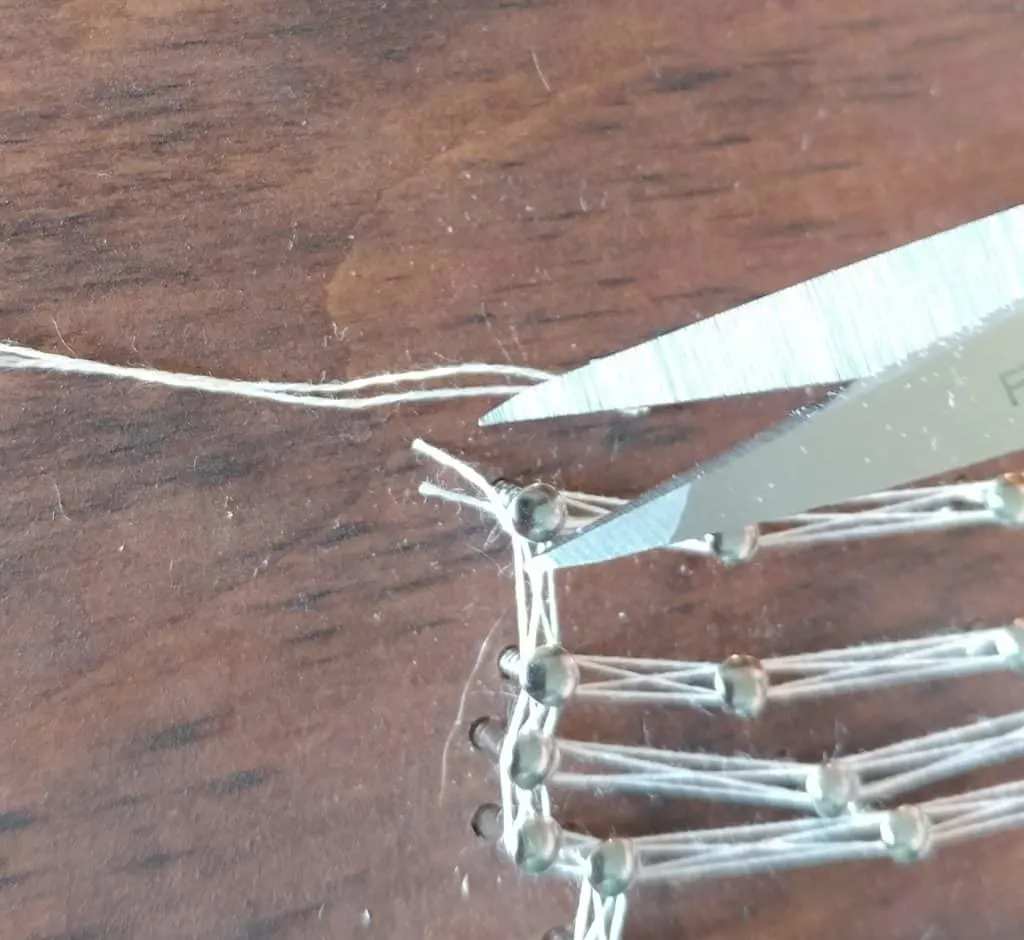 Then dab a small amount of glue from the glue stick on to the nail that has the loose ends.
Press the loose ends of the string into the glue, wrapping them around the nail, so they aren't visible when looking at the piece.
I like using the purple glue that dries clear to help me know exactly where my glue is when I am working on this step.
I use a bamboo skewer for this step, but it is completely possible to just use your fingers for this part.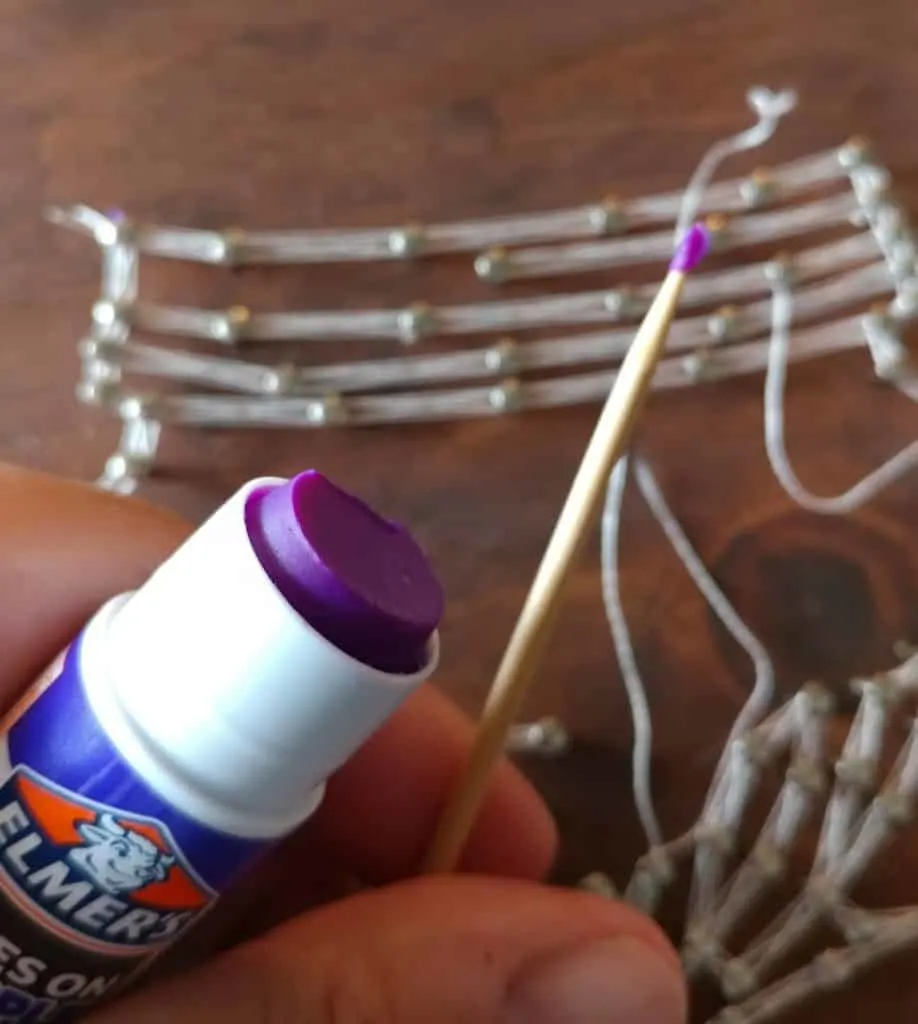 Once all your ends are glued, you're ends are clipped and glued, your board should look something like this: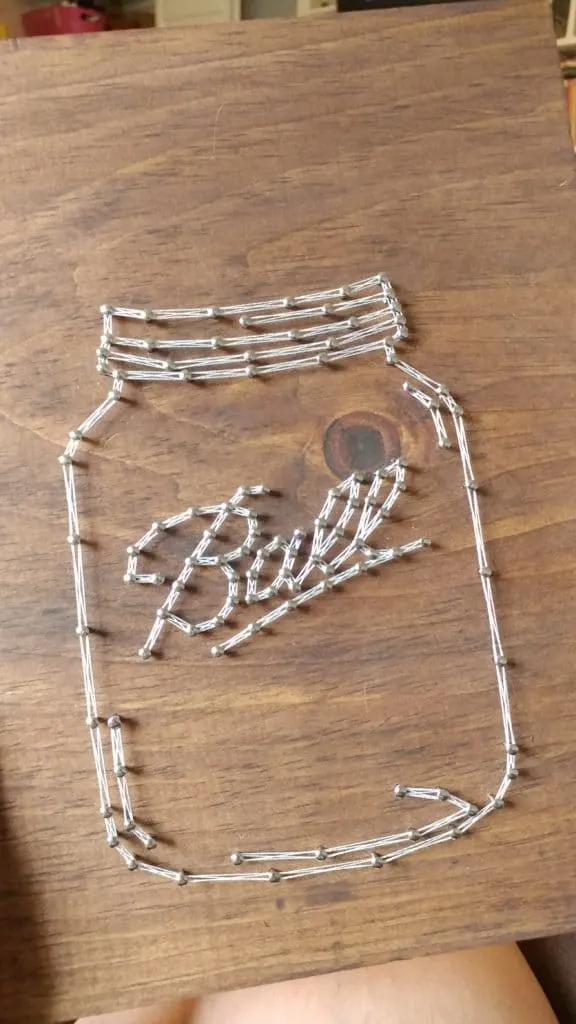 Flowers
Now you get to arrange your flowers!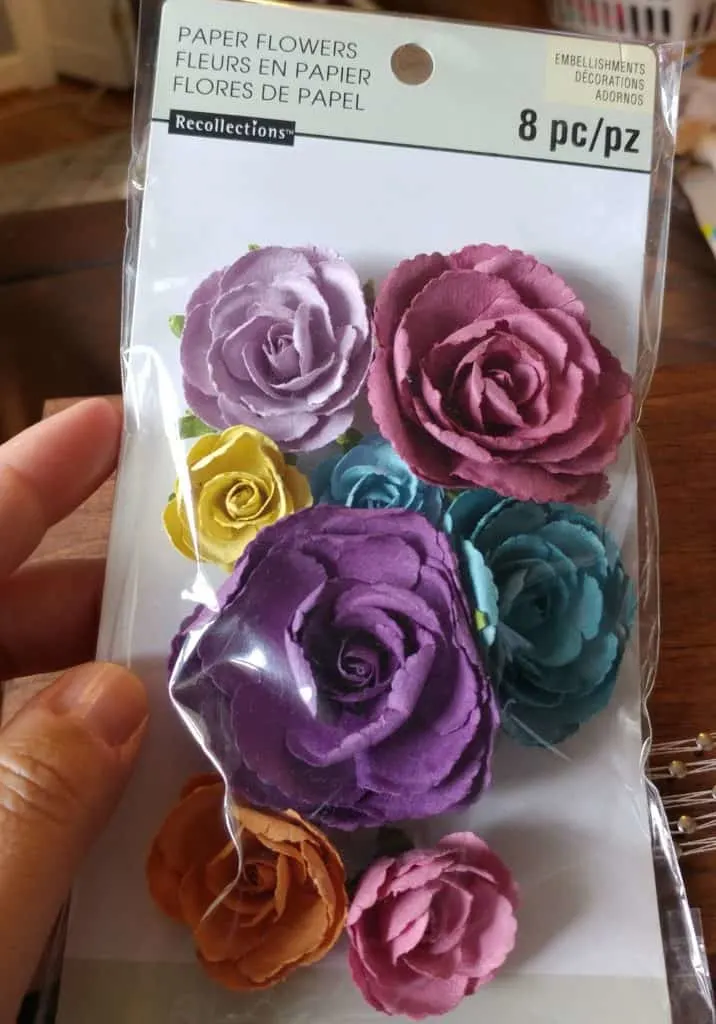 After gently removing the flowers from the packaging, arrange them on your board to make sure you like the placement.
This can take a little tweaking.
After I have an arrangement I like, I glue the flowers onto the board one at a time.
I try to make sure each flower has had about 10 minutes to dry before adding another one.
This way I can bunch them closer together without shifting the position of the other flowers.
I forgot to put it in the supply picture at the beginning, but I use Aleee's Tacky Glue.
It's pretty inexpensive and is a great all purpose craft glue!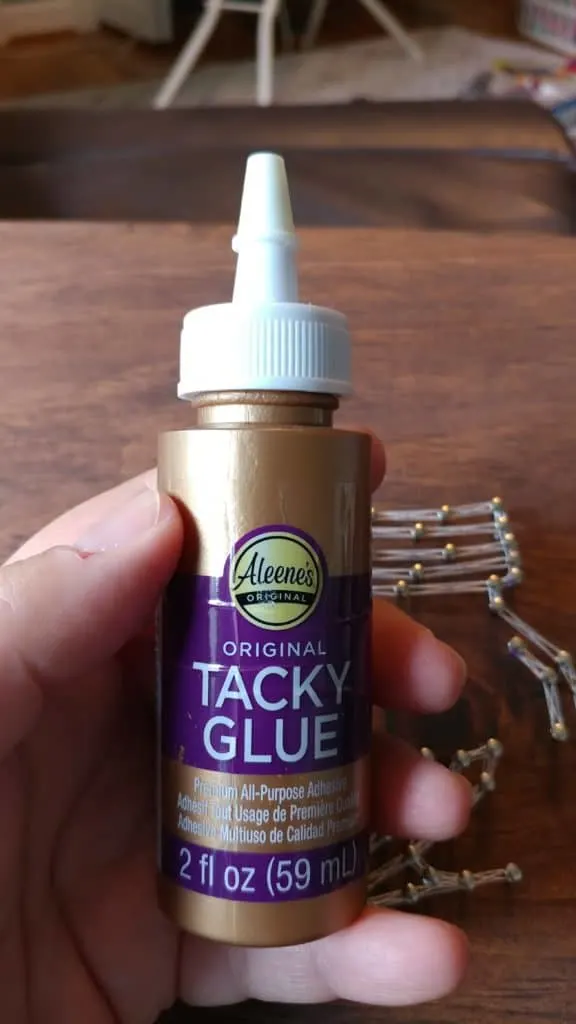 Once your glue is dry, you add your saw tooth hanger to the back, and your piece is ready to display!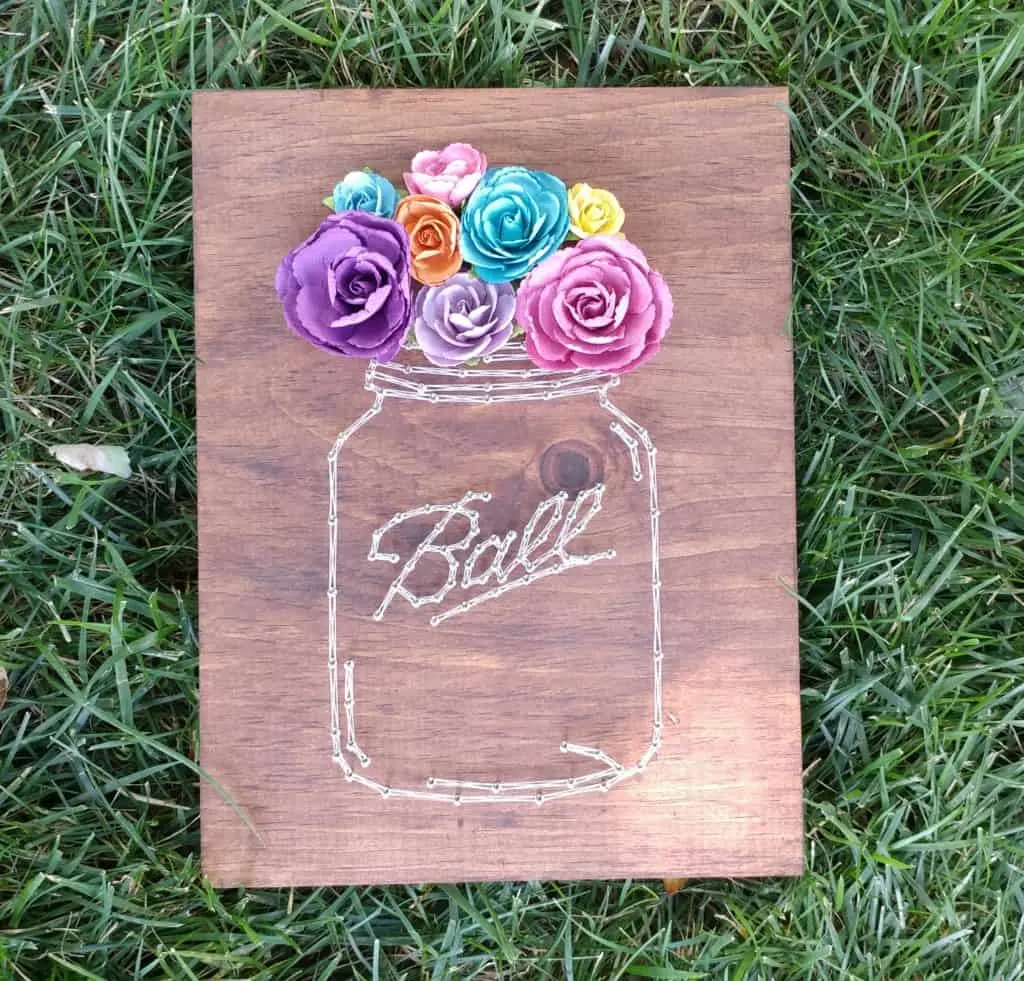 I'd love to see how your versions of this project turn out! Send them to me on Facebook:
www.facebook.com/chaoticallyyoursblog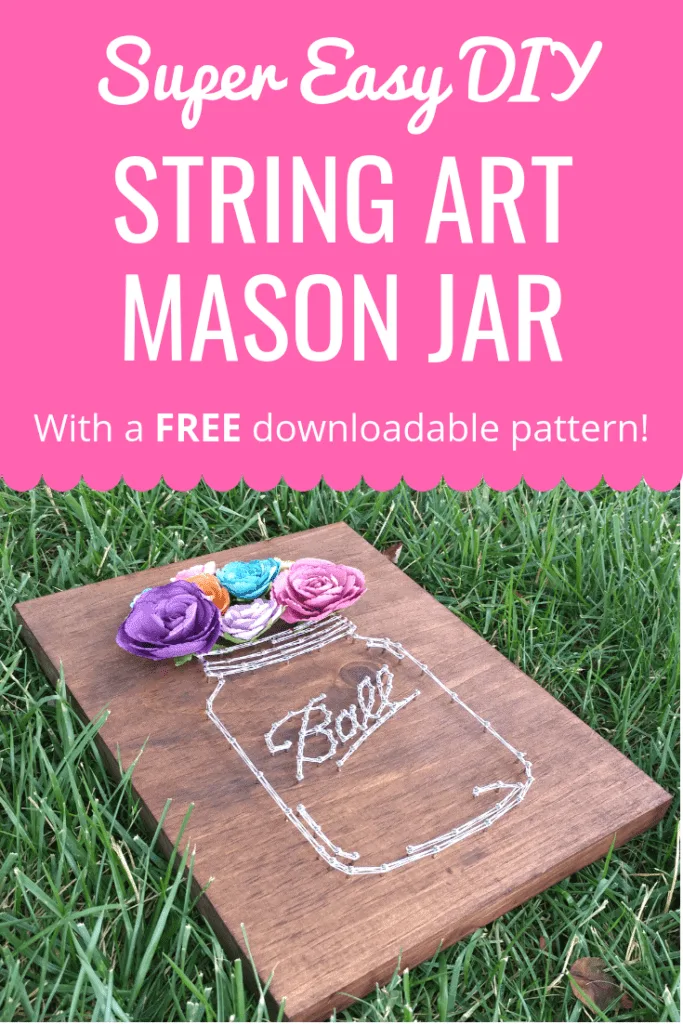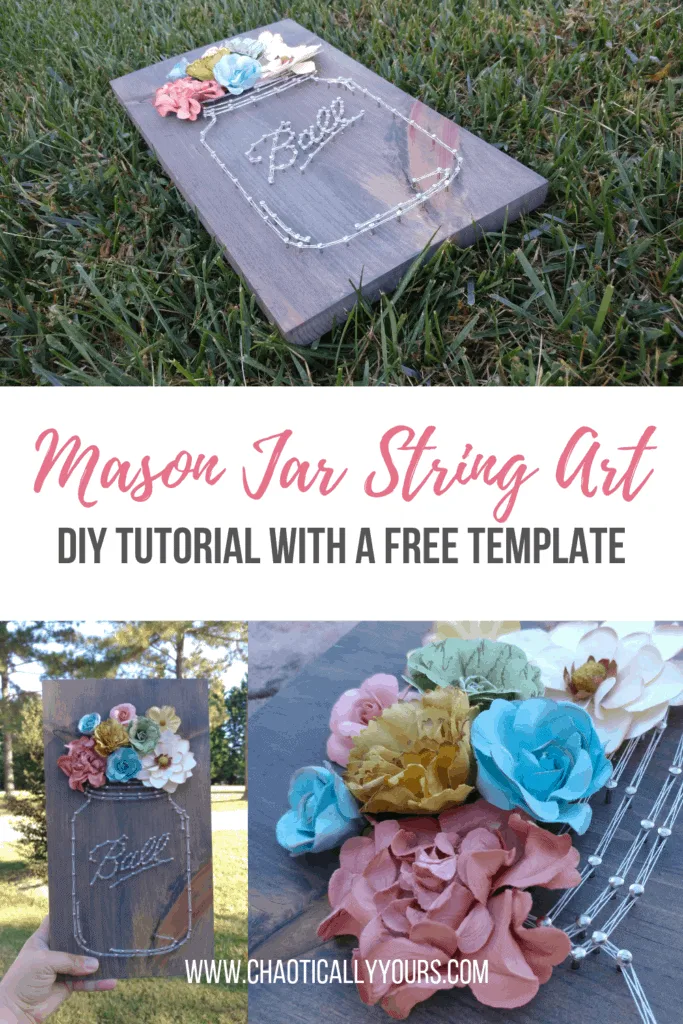 DIY Mason Jar String Art Tutorial with FREE Pattern