What matches Delta Champagne Bronze? That has been a prominent question in our house for the last year, as we embarked on a major remodel of our home.
Finding lighting and fixtures to match this gorgeous metallic color has been the biggest challenge of the entire year long process.
You can't just pair any old gold colored items with Delta Champagne Bronze. Most typical gold or brass items are too yellow or too shiny to match well and just end up looking off.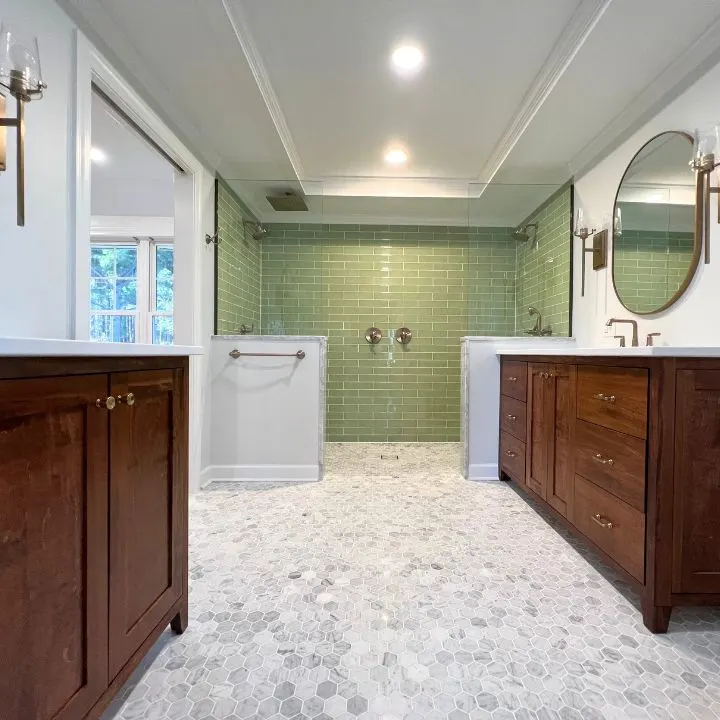 I've spent hours and hours comparing metallics, pouring over message boards and walking through stores to find the perfect matches to champagne bronze, and I'm sharing all my findings so you don't have to do all the legwork too!
Links in this post may be affiliate links, which means I may earn a commission if you make a purchase from any of them, at no additional cost to you. You can find out more information by reading my full disclaimer.
What Is Champagne Bronze?
Champagne Bronze is the most recent produce color released from Delta Faucets.
Delta has long been a household name in the plumbing space. With a large line of beautiful fixtures to suit any decor, their products are durable and reliable.
Their newest color for their fixtures to come on the marker is a beautiful shade called champagne bronze. The color almost looks like brushed brass, but with a hint of a rose gold to it. It isn't too yellow or too pink, but is a perfect blend between the two, and looks gorgeous with just about any decor.
When we decided to start our massive construction project, I had a very specific look in mind for our space. We wanted to mix the sleek mid century modern looks of the late 1906's (when the home was built) with the classic traditional styles that is already in place in the space.
When we started on the master suite, our first room in this massive construction project, I quickly picked the Delta Saylor faucet in Champagne Bronze for our sinks.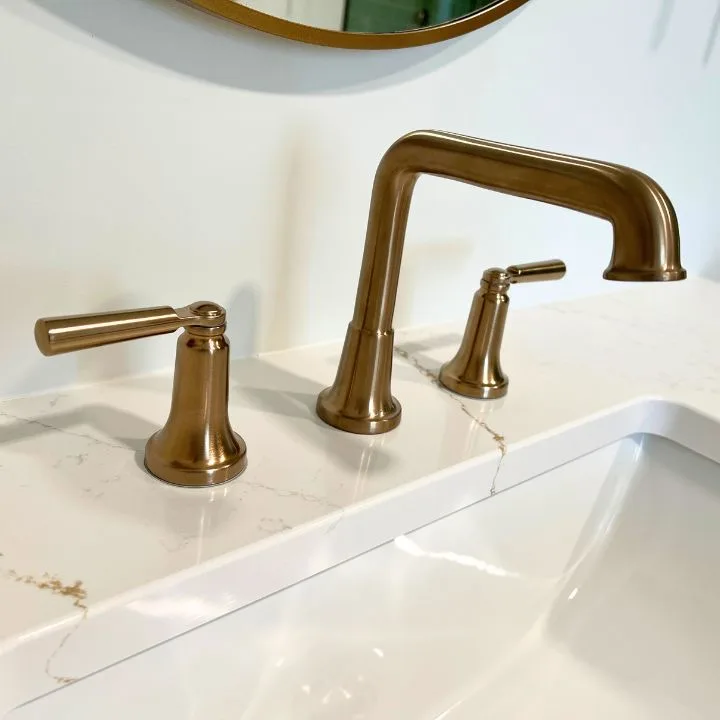 I loved the modern aesthetic and the sharp lines of the fixture, but I felt that the muted gold color would add a beautiful traditional touch to the space.
We based all our other fixture choices on this one selection, and started trying to match things to it.
For the other water fixtures like shower heads and handles, that was easy enough, since Delta also produces those in champagne bronze. We went with the Saylor line for those items as well.
It was also quite easy to match the towel bars, robe hooks, toilet paper holders, and such, since Delta makes those in champagne bronze in a wide variety of designs.
If you're looking for other faucets, showerheads or accessories that will perfectly match champagne gold, you can also check out the luxury brand Brizo in Lux Gold. These fixtures are an exact match for Delta champagne bronze.
Those choices were easy, but when it came time to pick things like mirrors and light fixtures, that's where the headaches came in.
What Matches Delta Champagne Bronze?
While champagne bronze is a beautiful color, finding coordinating items to match it is a real challenge. The color is so specific that it can be really hard to match.
Light Fixtures That Match Champagne Bronze
The next big challenge for us was finding light fixtures. I ordered and returned three different fixtures and ended up asking a professional interior designer for help.
She quickly recommended Kichler's new line of light fixtures that are specifically designed to go with champagne bronze.
Everything in this line is a perfect match to the Delta champagne bronze. They have all sorts of different styles and looks that will match any decor.
We chose the Kichler Alton sconce because I love the long lines and the mid century look of it.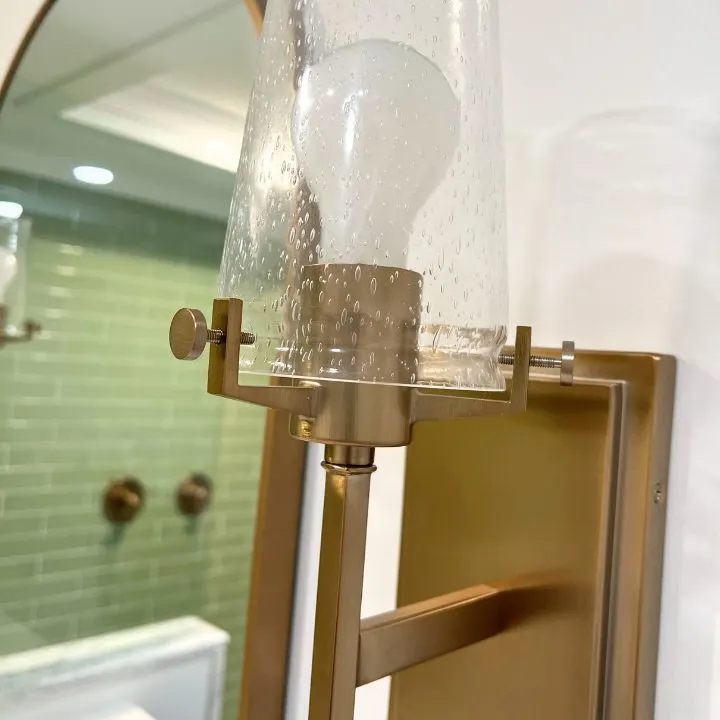 Hardware That Matches Delta Champagne Bronze
Finding hardware for our vanities was another hurdle, albeit a smaller one with more options.
There are lots of companies that make hardware that matches champagne bronze.
Franklin Brass makes several designs of drawer pulls in champagne bronze that are a fantastic match.
There's also a full line of products by Amerock in champagne bronze that look lovely.
For our custom made vanities, we decided to go with the Atlas Oskar drawer pull in Warm Brass. It coordinates perfectly with the faucet and light fixtures.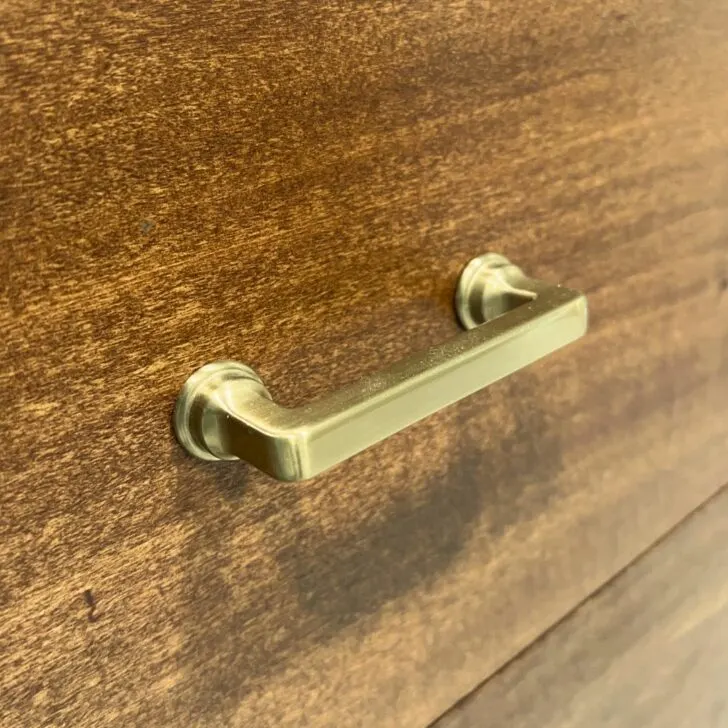 While we didn't need a shower curtain for this project, I have read that the Ivilon tension rod in Warm Gold is also an exact match for champagne bronze.
A DIY Match for Champagne Bronze
For the final touch on this bathroom, I really wanted a very geometric shaped mirror that had a matching champagne bronze frame.
Mirrors can get incredibly expensive, and finding one that matched the sconces and the faucet proved to be very difficult. But after scouring some message boards, I found a suggestion for using spray paint to match champagne bronze.
Yes, you read that right. Spray paint. I was super skeptical, but it works! I took a gamble on some inexpensive mirrors from Amazon in the shape I wanted and then spray painted the frames.
This magical spray paint is Rustoleum Metallic in Metallic Champagne Bronze.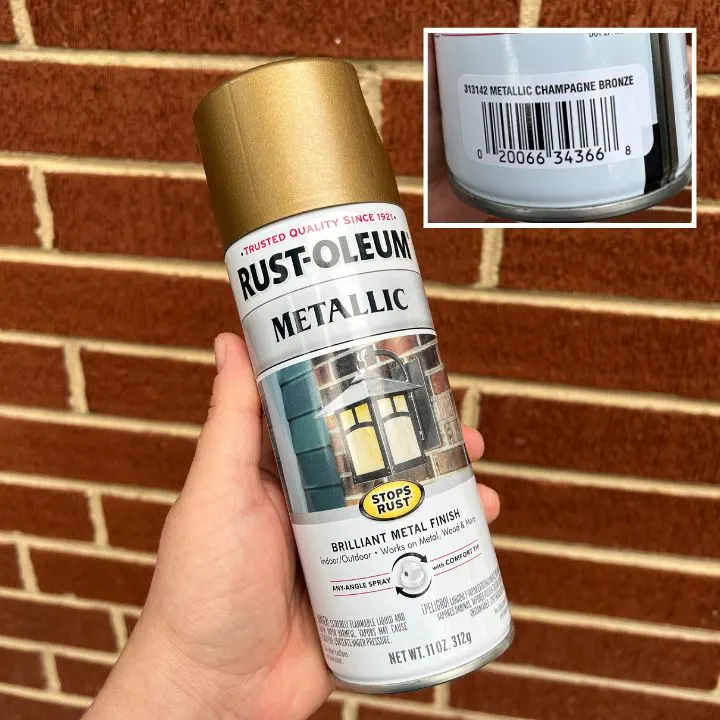 To paint the mirror, I was unable to detach the frame from the glass itself, so I ended up covering the glass with thick paper and painting it while the mirror was still assembled.
I put three very light coats over the whole thing, making sure to get that inside edge of the frame. This gave me a very even finish and you'd have no idea that the frames are spray painted.
It was a perfect match and I absolutely love how it turned out.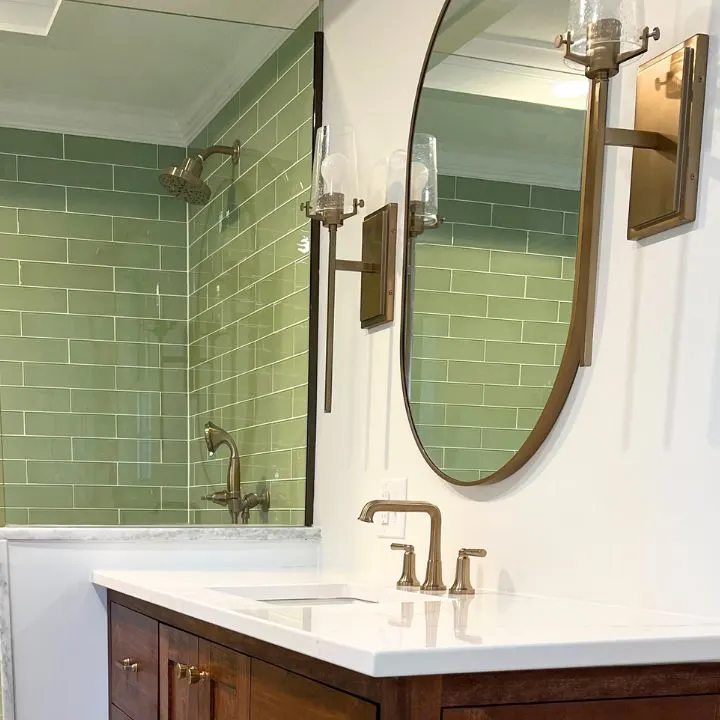 I love how my champagne bronze fixtures look in this space. They really give it a mix of mid century and classic vibes that I was going for. Even with the challenges of having to hunt down the matching hardware and accessories, I'd put them in this space again in a heartbeat.
Wondering about the rest of the finishes we used in this space? I'm happy to share.
For the double shower stalls, we used a 3 x 12 inch glass subway tile in a shade called Tea Green from The Tile Shop.
For the floor, we used a 2 inch Firenze Carrara Honed Marble Hex Mosaic tile also from The Tile Shop.
The vanities were custom built by Bleu Maple Carpentry.
The vanity tops are a Silestone quartz in Ethereal Glow that is a pure white with veins of gray and gold running through it.
The wall color is Sherwin Williams Spare White.
Questions?
Have any questions about our remodel? Leave them in the comments!