I figured out the Zax sauce recipe!! I now know how to make Zax Sauce!!
Y'all! I love Zaxby's.
Like love it so much, it's ridiculous. Any chance I get to see that silly chicken logo, I'm there!
From the Zalad's to the Wingz, every member of my family has something they love on the Zaxby's menu.
But my particular favorite is Zax Sauce.
What is Zax Sauce?
Zaxby's Sauce is the signature sauce offered at Zaxby's Restaurants that pairs perfectly on their chicken. You can get it on the side or on your sandwich, but either way, it's delicious!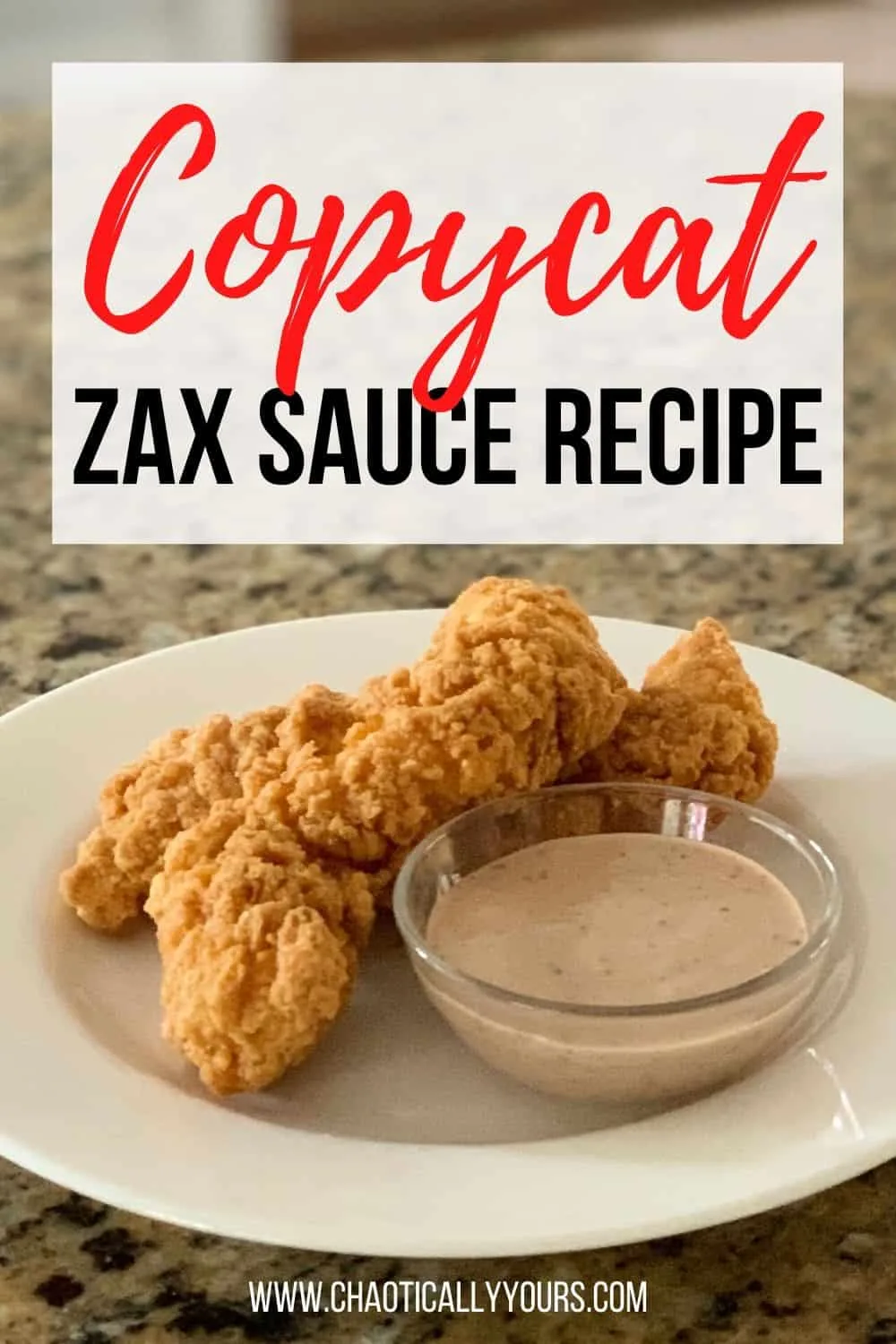 That creamy, tangy, slightly sweet mixture of Zaxby's Sauce makes my mouth water just thinking about it, and I've always wanted to have it around at home for those times when I think it would make a great addition to a meal.
Unfortunately, Zaxby's doesn't sell that heaven sent Zax Sauce mixture in large quantities. So I had to figure out how to make it on my own.
While my zax sauce recipe isn't perfect, it's a pretty darn close approximation of what they serve in their restaurants.
Zax Sauce Recipe: What You'll Need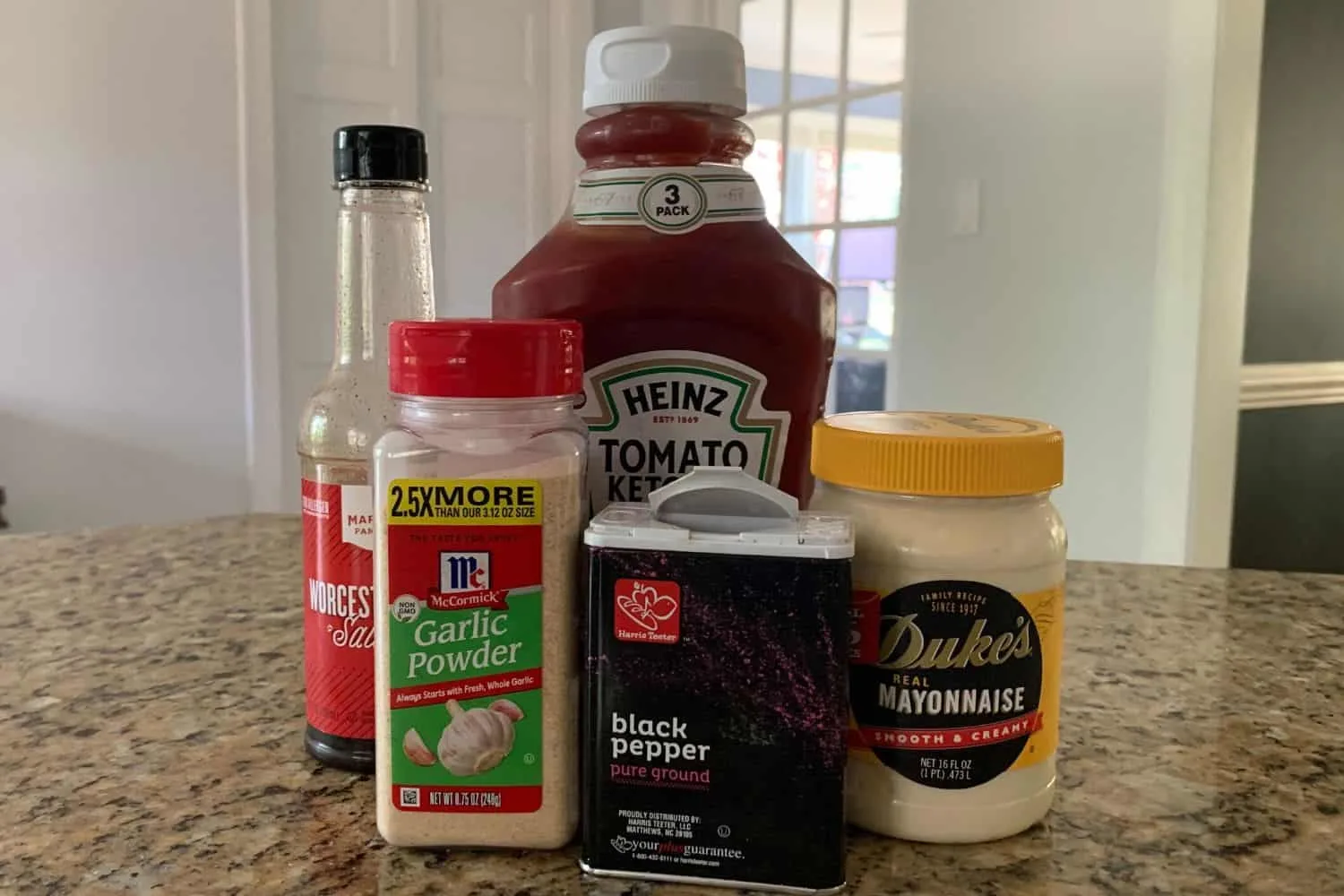 You'll need the following zax sauce ingredients for this recipe:
Ketchup
Mayonnaise
Worcestershire Sauce
Garlic Powder
Black Pepper
Ingredients Explained:
The first basic zax sauce ingredient is 3/4 cups of mayonnaise.
You'll want to used real mayo, not that imitation whipped stuff. We're big fans of the classic Southern brand Duke's around our house. I highly recommend using it for this recipe!
The second ingredient for this Zaxby's Sauce recipe is 1/4 cup of ketchup.
People have opinions about ketchup. We're a Heinz only house, but I know folks who won't use anything but Hunt's. My friends in Texas swear by What-a-burger ketchup!
My college roommate was so picky about her ketchup, that she would carry a bottle of Heinz in her purse. Anytime we went to a restaurant that didn't serve Heinz, she would pull out her own supply. It was hilarious!
For this recipe, use just use your favorite brand.
The next you'll need for your Zax Sauce is Worcestershire Sauce.
The measurement in the printable recipe is 5 teaspoons. I know that sounds odd, but I've tried this recipe using the converted measurement of 1 tablespoon and 2 teaspoons, but the flavor didn't quite taste right.
I don't know what it is about measuring out 5 teaspoons instead that makes it work, but I don't question it. Just trust me and measure the 5 teaspoons instead.
A half teaspoon of garlic powder comes next. This is the ingredient that gives the Zaxby's Sauce recipe that certain something that you can't quite put your finger on. It doesn't taste super garlic-y, but it balances out the flavor in an unexpected way.
The final, and most important ingredient is black pepper. My recipe calls for 1 teaspoon, but this is really just a starting point.
Add the 1 teaspoon, but then add more until the taste is too your liking after you mix it up.
The large amount black pepper is really what makes this sauce sing. You don't want to add so much that the sauce becomes too spicy or hot, but you want enough that you can really taste it.
The pepper amount is really key getting the flavor of Zaxby's sauce just right. You'll be surprised at how much you end up adding to make it taste right.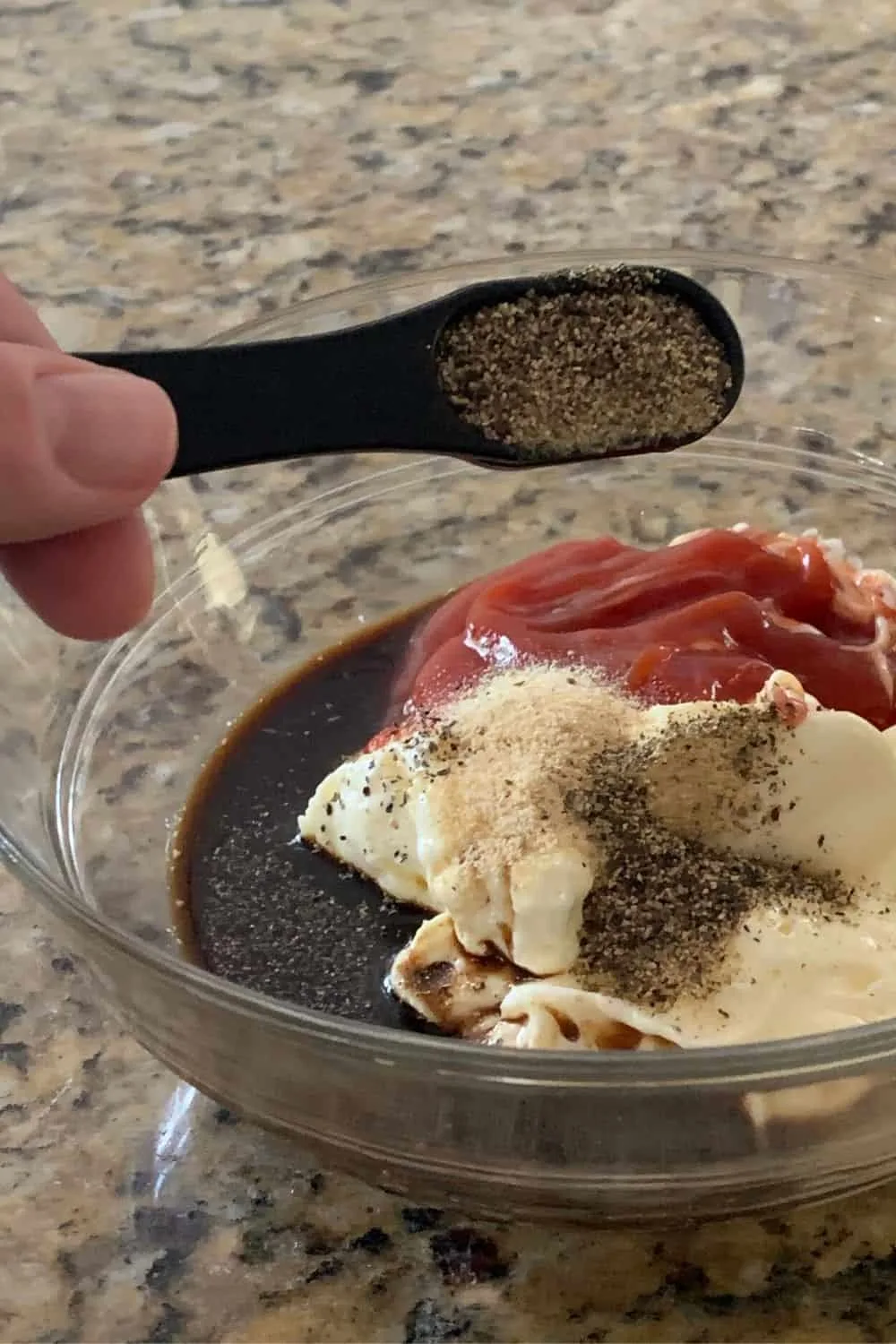 Once you've combined all your ingredients, stir it thoroughly, making sure you get out any lumps and evenly distribute that pepper.
And that's it. That's how to make Zax Sauce! It really couldn't be any simpler.
Let Your Zaxby's Sauce Sit
While you can serve it immediately, I HIGHLY recommend letting it sit in your fridge for 24 hours. This gives those yummy flavors a chance to really soak into each other.
I promise, you'll be glad you waited. It's so much better on the second day!
Be sure you store it in the fridge, since mayo has the tendency to turn on you if not stored properly.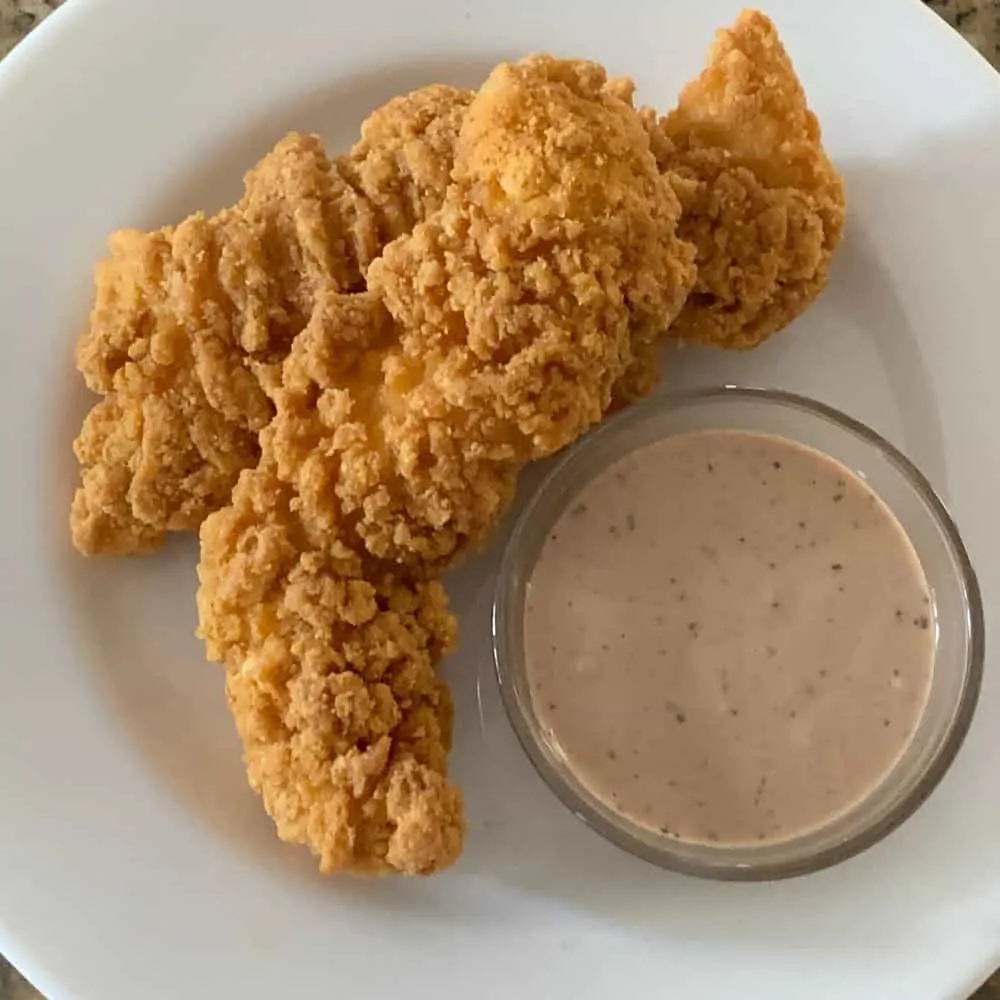 Once you learn how to make zax sauce, you're gonna want to put it on everything.
I serve this sauce mainly with chicken strips and french fries, just like the restaurant, but I'm sure you could put it on anything you like! It would be great with grilled chicken or possibly even as a salad dressing. Whatever floats your boat.
This Zaxby's Sauce recipe is similar to sauce you can find at other chicken joints, like Guthrie's or Raising Cane's.
Guthrie's in Auburn, Alabama, was actually my first introduction to this type of sauce. Guthrie's sauce blew my mind the first time I had it.
Guthrie's sauce is so good that literally all they have on their menu is chicken fingers and sides. They might throw the chicken fingers on some bread, but it's still chicken fingers! It's so good, y'all.
The closest Guthrie's to my local area here in North Carolina, is over 400 miles away. So Zaxby's is my runner up restaurant, and Zaxby's sauce isn't too far off from Guthrie's sauce, so we make do.
You know what goes great with some chicken fingers dipped in Zax Sauce? Some super buttery, toasty, delicious bread! Check out my super easy recipe for the best bread you'll ever eat!
Here's a handy little printable of how to make Zaxby's Sauce recipe so you can have it over and over again!
Yield: 1 cup
Copycat Zax Sauce Recipe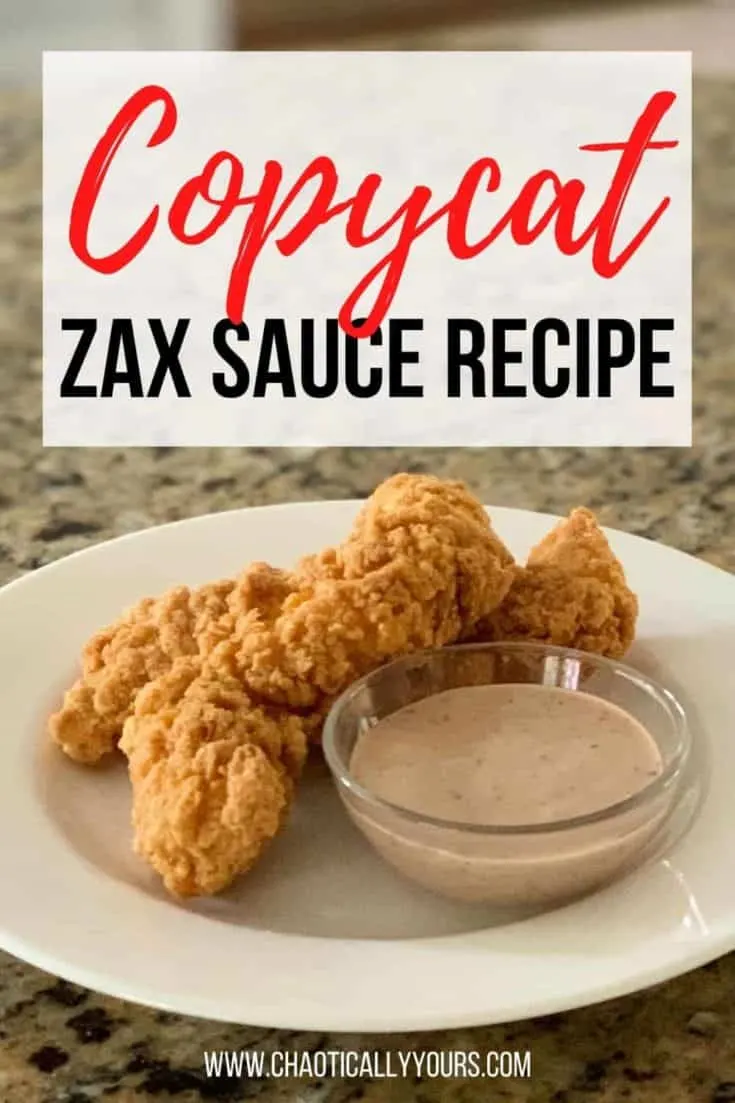 Use this easy copycat Zax Sauce Recipe when you're craving Zaxby's Signature sauce!
Ingredients
3/4 cup Mayonnaise
1/4 cup Ketchup
5 tsp Worcestershire Sauce
1/2 tsp Garlic Powder
1 tsp Black Pepper (+ more to taste)
Instructions
Mix all ingredients together.
Add more black pepper to taste.
Store in refrigerator.
Notes
Can be served immediately, but refrigerate 24 hours for best flavor.
Nutrition Information:
Yield:
16
Serving Size:
1
Amount Per Serving:
Calories:

76
Total Fat:

8g
Saturated Fat:

1g
Trans Fat:

0g
Unsaturated Fat:

6g
Cholesterol:

4mg
Sodium:

117mg
Carbohydrates:

2g
Fiber:

0g
Sugar:

1g
Protein:

0g
Copycat Zax Sauce Recipe: How To Make Zaxby's Sauce