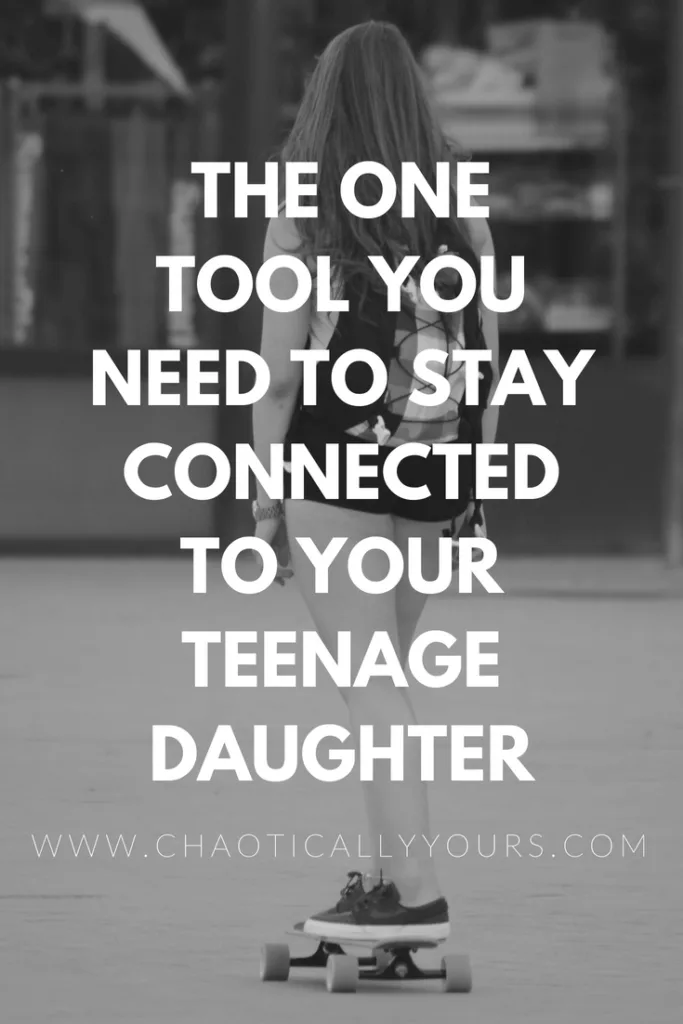 Links in this post may be affiliate links, which means I may earn a commission if you make a purchase from any of them. You can read my full disclaimer HERE.
The teen years are hard, y'all, but I've found a tool that is really helping me stay connected to my daughter.
We're just entering the beginnings of teenager-dom with my oldest daughter, and it is already proving to be a bit trying.
Teenagers are kind of an unknown entity to me. I remember pretty clearly what it was like to be one, but it's a VERY different world now than it was when I was growing up.
So many new, scary challenges that just didn't exist in my teenage years. From social media to school violence, sometimes I feel like I just don't know what kind of world I'm sending my kids out into.
It's more important than ever to stay connected to your kids. To know what's going on in their heads and know what their struggles are. I feel like I've found an awesome way to do just that.
Since she was about 9 years old, my daughter and I have had a shared journal.
It's just a little book where she can write down any question or comment she has for me, and I will respond honestly and with love. She can write whatever she wants, and there will be no judgement or punishment for anything she shares.
It's a safe space for her to communicate with me in a way that can sometimes be hard to do face to face.
There's no schedule, but I always answer as quickly as I can. When I write something to her, I leave it under her pillow. When she writes to me, she leaves it under mine.
Over the years that we've been doing it, she's shared funny stories about her school day, the names of boys she has crushes on, encouragement for me as a mom, and some really personal questions.
I've shared with her my best advice for dealing with bullies, my own experiences as a teen, encouragement for her as a kid, and lots of honesty.
I've been able to tell her that I don't always know the right answer, but that I will help guide her as much as I possibly can.
It's also been a way for me to reach out to her on particularly difficult days or times when I just feel kinda distant from her. Being able to just write her a note and leave it for her has been priceless to me.
On days when I feel like I haven't been a good mom, or that I reacted to harshly to her about something, it's a place where I can leave an apology and make amends for my mistakes.
I also love looking back on what we've shared over the past few years. It really gives insight into how she's grown and changed.
She is such a funny, beautiful, interesting child. I love seeing how her personality has blossomed.
This simple tool has grown our relationship so much.
As we enter the teenage years, I'm finding that staying connected gets harder and harder.
We both love this little tradition we have, and plan on keeping it in place as long as we can. I feel like it's building communication bridges with her for what's to come.
Want to start your own shared journal with your daughter? Amazon has some great journals that are really beautiful. Here are a couple of my favorites:
&34;She is Clothed with Strength and Dignity" Turquoise Flexcover Journal – Proverbs 31:25
Gilded Rosettes Journal (Diary, Notebook)
Having a special way to communicate with my daughter has really helped us stay connected. I hope it does the same for you.
Do you have a shared journal with your child? How has it helped you? Let me know in the comments!!