Everyone knows that teachers are overworked and underpaid, and Parent Teacher Associations (PTAs) are always looking for great ways to support our teachers. Our school,
Jones Dairy Elementary
in Wake Forest, NC, is no exception.
This year, our PTA decided to do more to support our teachers than just throw them the same old pot-luck luncheon. They wanted to give a gift that would help nurture our teachers and help support them for years to come.
So they decided to make over the teacher's lounge.
Our school opened way back in the mid 1990s, and I'd be willing to bet the teacher's lounge had not been touched since then.
Boring light blue walls surrounded uncomfortable furniture that had definitely seen better days. Hand-me-down appliances filled the countertops with a elderly refrigerator humming away in the corner.
Definitely NOT a place where teachers could relax, let along a room they wanted to spend any time in!
Here are the "before" pictures: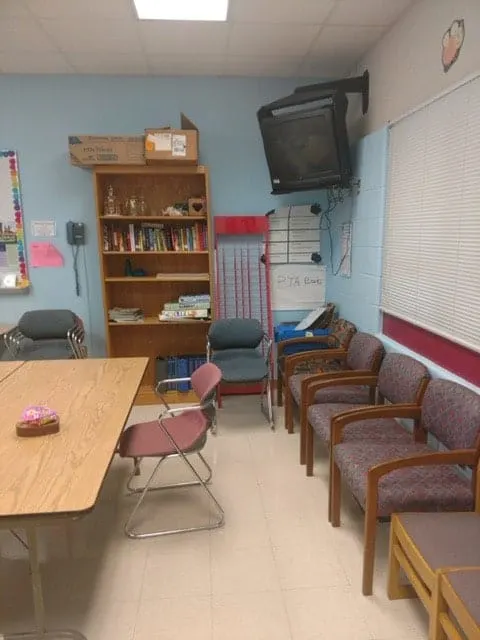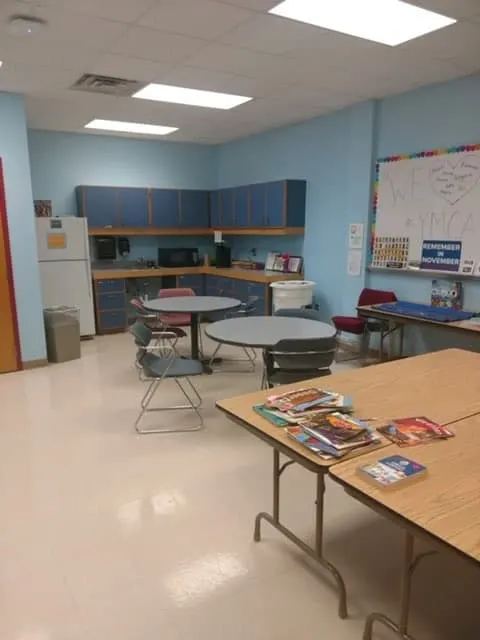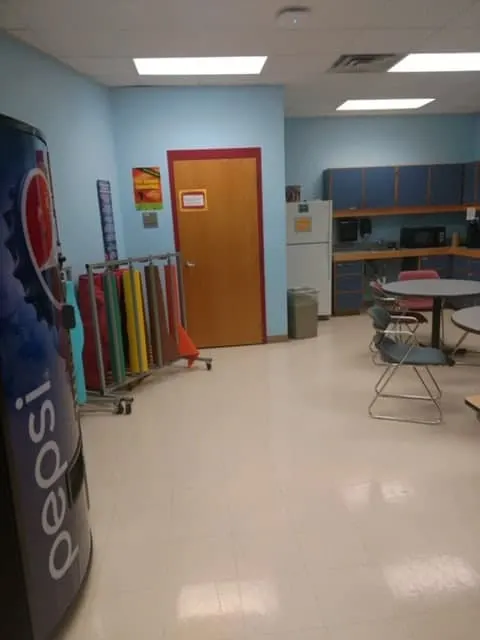 With a budget of just over $2,000, the PTA committee made every penny count!
They scoured local resale sites and thrift stores to find just the right items for the new space. A few items were purchased brand new, but quite a few piece of furniture were donated by some community members.
They spent a lot of time refinishing furniture to match the color scheme and going to pick up furniture from different locations.
With the limited budget and some sweat equity, the PTA was able to do ALL of these things to the teacher's lounge:
Paint the walls grey
Paint the trim white
Change the window coverings
Refinish cabinets
Add new hardware to the cabinets
Install a new backsplash
A new refrigerator
A water filtration system
A dining room table
A sofa
A chair and ottoman
A high top table
An area rug
New magazine racks
New coffee station
Set up multiple dining areas so that staff could eat together
Set up living room style area
Create a shelf for book swap
Stock the cabinets with kitchen supplies
Stock the coffee station with K-Cups, coffee, creamer, sugar, Splenda, and snacks
Lots of decorative touches
While the budget may have been minimal, the amount work needed to pull off the project was huge!
Committee member Shirley Coltrane said, "It did not cost us a ton of money but it was a lot of work. It was a dedicated team of people that came in for the whole weekend including husbands and kids that truly worked until their bones ached. We could not have done it without their help!"
The reveal of the new teacher's lounge was a total surprise to most of the staff. A few key members of the administration were in on the secret and gave the volunteers access to the school over an entire weekend.
The volunteers worked Friday to Sunday so that it would be 100% complete when the teacher's came back to work on Monday. The teachers were totally surprised when they walked into the room.
Here are the end results of all that hard work: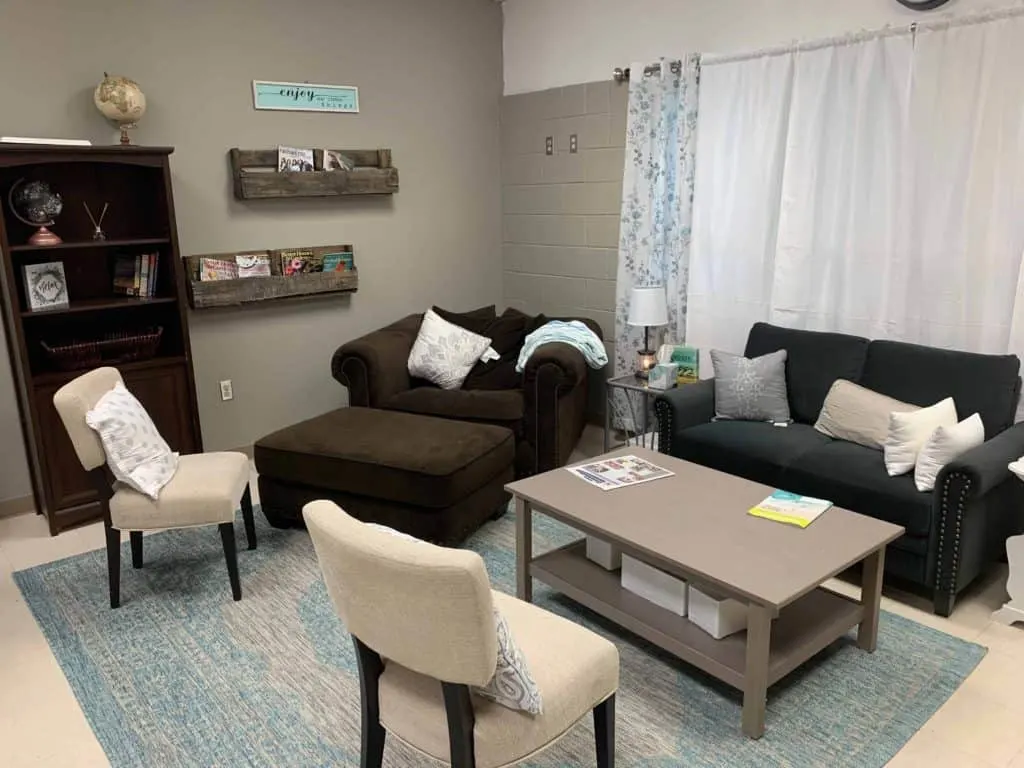 The room looks amazing and the staff is thrilled with the results.
It's now an inviting room that gives teachers a real retreat from their classrooms.
The new coffee bar and water filtration system are already getting lots of use, and teachers can be seen taking their breaks in the space WAY more often than they used to!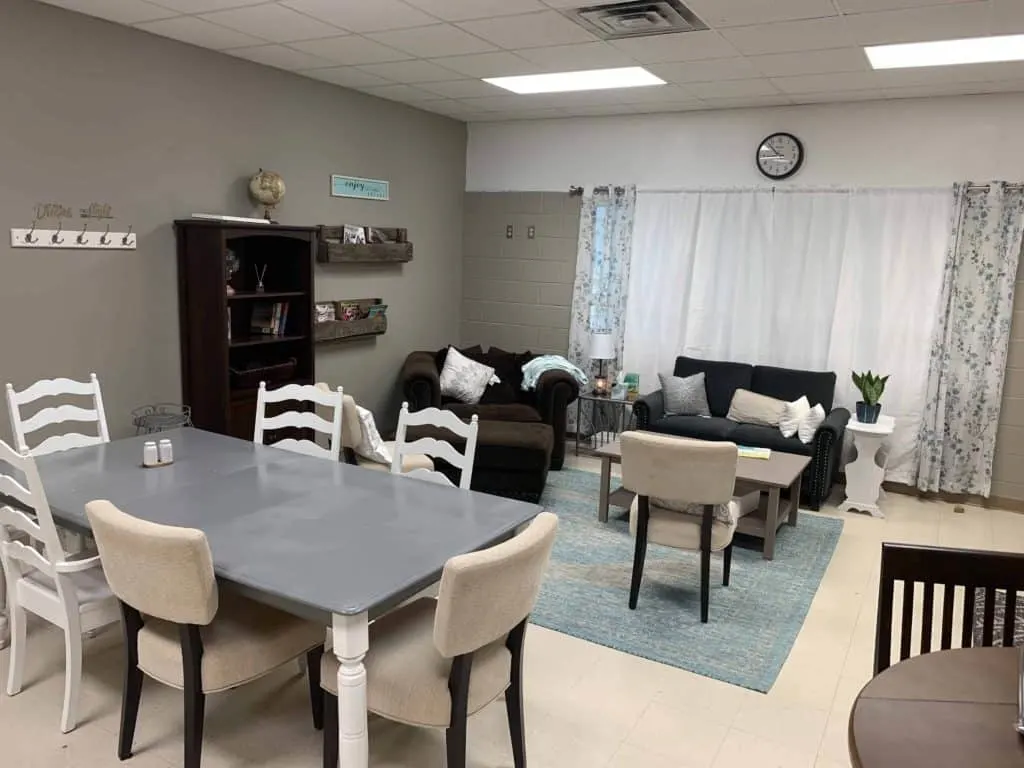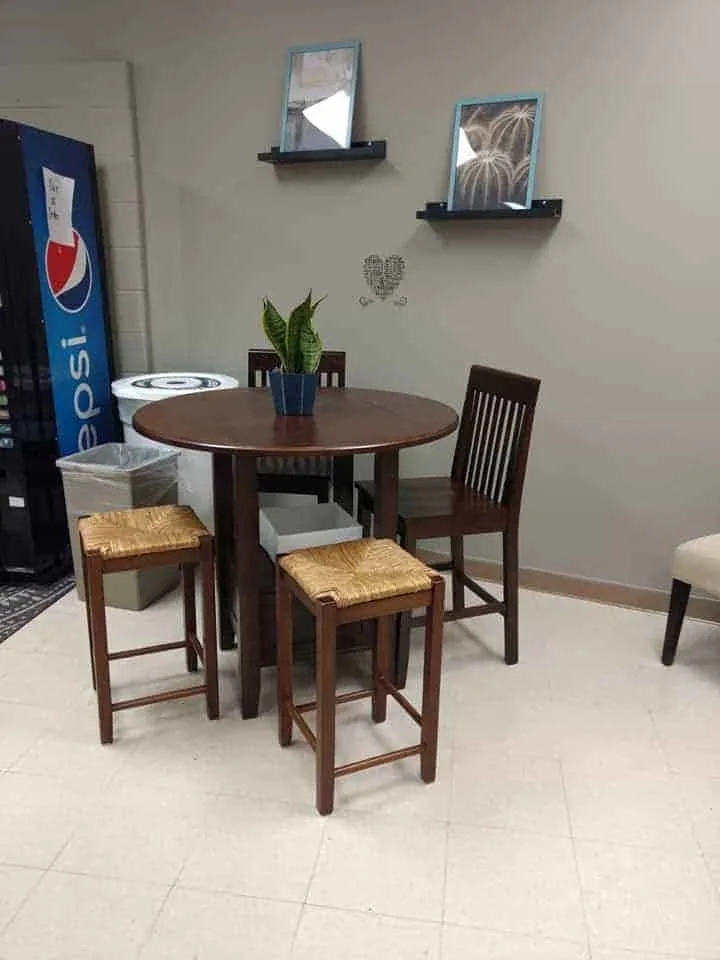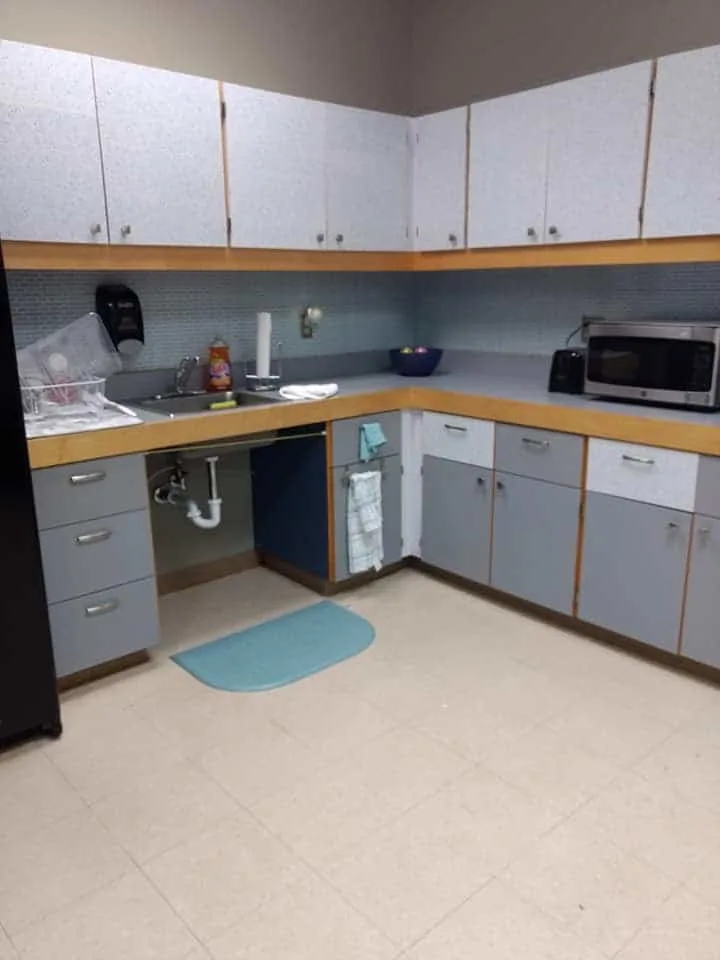 A HUGE thank you goes out to the Jones Dairy Elementary School PTA for taking on this project! Especially committee members Shirley Coltrane, Rachel Schwenn, and Sarah Hassing, and volunteers Erin Parks, Kaitlyn Atkin, Jennifer Smith, and their families!