We LOVE using Magic Bands at Walt Disney World, but it can often be cumbersome (and expensive) to wear both a Magic Band and a Smart Watch while on vacation.
We discovered how to turn your Smart Watch into a Magic Band using the Disney Magic Mobile program!
It's simple to set up and super easy to use, and can save you some big money now that Magic Bands are no longer free!
What is Disney Magic Mobile?
Disney recently introduced Magic Mobile, so you can now get almost all the functionality of a Magic Band on your Apple Watch or iPhone.
The program currently works on Apple products and Google Pay enabled Android devices.
Guest who choose to use Disney Magic Mobile will be able to create a customized digital pass through the My Disney Experience app that they can add to their digital wallet in their iPhone or Apple Watch or to Google Pay.
Just like with a Magic Band, Disney Magic Mobile Pass guests will be able use their phone or smartwatch as a to:
Enter the parks (with a valid ticket and park reservation)
Tap into Lightning Lane reservations
Add PhotoPass images to your account
Charge food and merchandise to the card on file at your Disney Resort Hotel
Use as a parking pass for resort hotels
We tested out using Magic Mobile on a recent trip to Walt Disney World, and learned all the ins and outs of how to use it.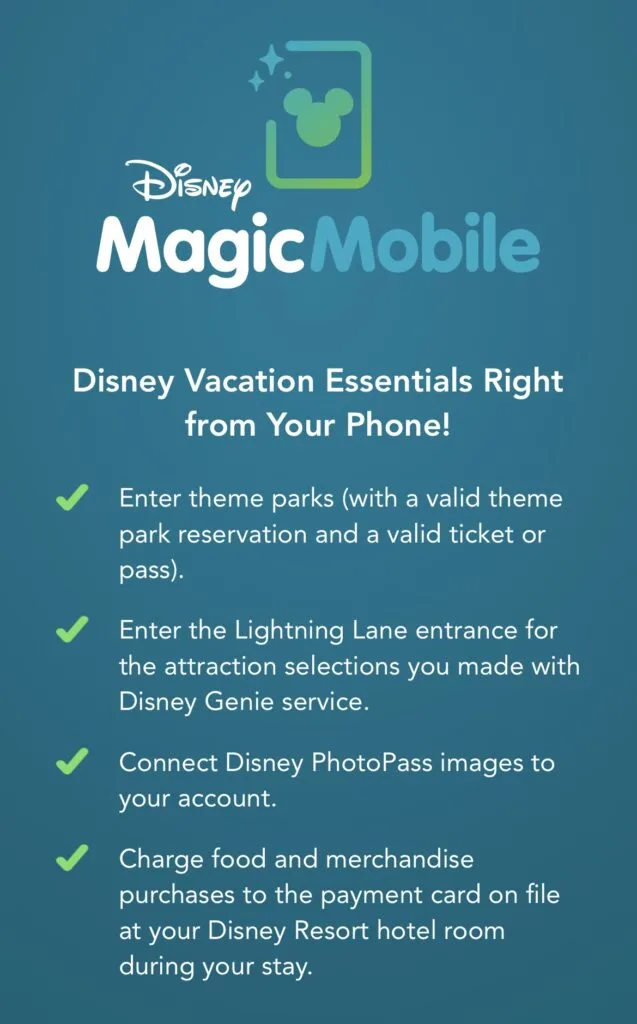 Why Use Disney Magic Mobile Instead Of A Magic Band?
There are lots of reasons that guests may choose to use Magic Mobile instead of a Magic Band, the chief among them being price.
Disney recently stopped making Magic Bands free to all resort guests. So if you don't already have one, you can expect to spend upwards of $19.99 for just a basic Magic Band.
It can also get bulky to wear a Magic Band and a Smartwatch at the same time.
I've also heard parents struggling with getting younger kids to wear Magic Bands and keep them on. No one wants the hassle of losing a Magic Band mid-trip.
Can You Use Magic Mobile To Pay For Things?
Yes! As I mentioned before Magic Mobile is linked to the credit card you leave on file for incidental purchases at your Disney Resort.
We did find that many cast members were not aware of Magic Mobile and had to be told that we were NOT using Apple Pay when we scanned our Apple Watches.
Once we told them it works like a Magic Band, we had no issues charging things "to the room," just like you would with a Magic Band.
What Disney Magic Mobile Cannot Do
Magic Mobile cannot currently open the door to your Disney Resort Hotel room like Magic Bands do.
While you can use My Disney Experience App to open your hotel room door, but it doesn't happen through Magic Mobile. Therefore, you cannot use your Apple Watch to open the door.
We found this lack of functionality to be a little clumsy during a recent visit, but it didn't deter us from using Disney Magic Mobile for everything else.
Can I Still Use A Magic Band If I'm Using Disney Magic Mobile?
Yes! You can absolutely keep using your Magic Band if you install Magic Mobile on your phone.
Disney has designed Magic Bands and Magic Mobile to be used interchangeably. It's super convenient.
How Do I Set Up Magic Mobile?
Disney Magic Mobile is extremely easy to set up and only takes a few minutes to complete.
To set up Disney Magic Mobile:
Make sure you have the My Disney Experience App downloaded onto your phone with your tickets already linked to your account.
Open the My Disney Experience App and navigate to the list of choices using the three link icon at the bottom right of your screen.
Find the square that says "Disney MagicMobile" and tap there.
You'll then see a teal Disney Magic Mobile screen that lists some of the benefits of the pass. Tap "Set Up Your Pass."
The app will guide you through a quick authentication process.
Once authenticated, you'll need to select the accounts you're creating a digital pass for. Your own account will be listed by default, but this is where you can select the other members of your party's accounts to manage like your kids or your spouse. Disney officially recommends that everyone who has the MDE app manage their own Magic Mobile pass.
Now you get to select your pass design, which is kinda fun, but really doesn't matter since you won't need to show this to anyone to use it.
When you're selected your design, click "Add To Apple Wallet."
Next click the "Add" button, and you're all done! It may take a few seconds to process, but you'll see a checkmark when it's finished.
To verify everything is in order, close out the MDE app and open your Apple Wallet to verify your Magic Mobile pass is in there.
Since Magic Mobile uses Express Pass, you shouldn't need to open your Apple Wallet again. Just tap your phone or watch to the appropriate spot and Magic Mobile can be read without even opening your phone or watch.
Does Disney Magic Mobile Work Well In The Parks?
During our recent four day trip to Walt Disney World, we used Magic Mobile exclusively with our Apple Watches instead of a Magic Band or any other sort of payment method.
The system worked beautifully.
We were able to badge into the parks with no problem whatsoever, and easily pay for meals and merchandise with just a quick tap of the wrist.
As we mentioned before, not all cast members were aware of the program, but no one gave us any hassle about it once we mentioned that it worked just like a Magic Band. I'm sure as time goes on, more cast members will become familiar with Disney Magic Mobile.
Will you be using Disney Magic Mobile on your next trip? Tell us in the comments!
How You Can Turn Your Smart Watch Into A Magic Band!