What ATV Gear Does A Newbie Really Need?
As a woman heading out on my first backwoods riding trip, I had NO CLUE what ATV gear I actually needed to do this successfully.
Recently, my husband and I were invited to join some awesome friends on a really cool ATV trip to the mountains of West Virginia. As an ATV newbie, I really had no idea what I would need for this trip. So I picked the brains of the other women who were planning to attend.
Both of them had already been out riding numerous times and knew all about exactly what ATV gear I'd need to have fun and be safe and comfortable on the trails.
Of course, you need an all terrain vehicle in good working order and an appropriate helmet, but there were other items that came in super handy during our time out in the woods.
We compiled a pretty exhaustive list, but I've narrowed it down to the essentials that any girl would want to have on this type of excursion.
Links in this post may be affiliate links, which means I may earn a commission if you make a purchase from any of them, at no additional cost to you. You can read my full disclaimer HERE.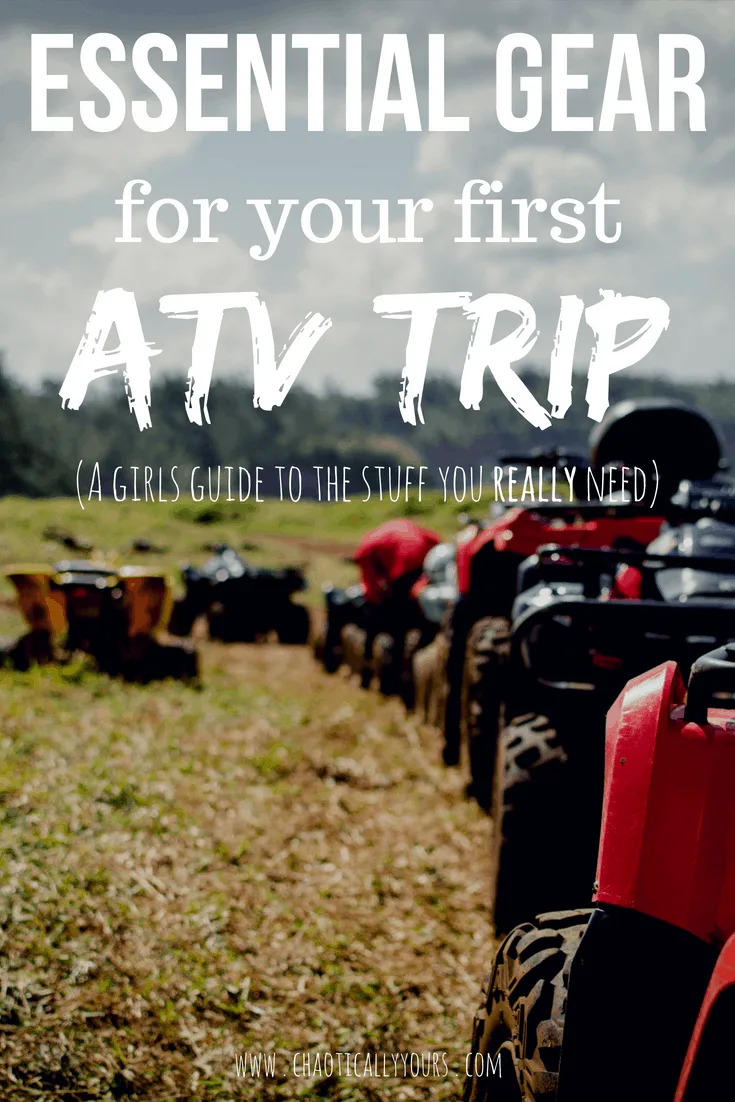 First ATV Gear Essential: Boots!
The first item of ATV gear you'll need is an excellent pair of the right kind of boots. The need to be waterproof and comfortable, since you never know how much walking you might need to do in all sorts of terrain.
If your "unit" breaks down, you might be hiking for quite a ways to get back to camp, and who knows what the conditions will be like. You'll want a pair of really good boots!
Both girls that went with us SWEAR by the Muck Boot brand. They're highly durable, very comfortable and most importantly keep your feet dry when splashing through the mud.
A good pair of Muck Boots will last you years!
You can find them here:
But sometimes boots are no match for the West Virginia mud, no matter how good they are. Our friend found out the hard way:
Another Backroads Essential: A Gaiter
Secondly, you'll need some sort of gaiter or face scarf to protect you from the dust.
The dust can get pretty bad riding behind other ATVs, especially if it hasn't rained recently.
Having a fabric scarf to pull over your face makes breathing MUCH easier. I found this piece of ATV gear to be a life saver when out on the trails!
I really liked the type you can find here:
Safety First: Protective Eye Wear
Eye protection is definitely essential ATV gear on this type of ride. Rocks and branches can whip into your vehicle unexpectedly, and good eye wear will prevent injury.
We like this three pack of clear, yellow, and smoke colored glasses.
The clear are great for just about anytime, the smoke really shades the sun, and the yellow helps brighten up the trail when the light is getting kinda dim.
They also have cushioning around the eye piece that keeps the dust and mud from seeping under your lenses. They're super helpful.
You can order them here:
Unexpected Necessity: Bug Repellent
Another essential piece of ATV gear you'll need when you're riding through the back woods is bug repellent.
When you're moving, bugs aren't a problem, but if you have to stop for any reason, the bugs are plentiful out in the woods.
I REALLY like these bug wipes by Avon. They're extremely effective, easy to apply, and you don't end up with a cloud of chemicals in your face like you do from sprays.
You can order them here:
Do Not Leave Home Without A Tick Remover!
Even if you're wearing the most powerful bug repellent in the world, ticks can find their way in!
Ticks carry all sorts of diseases, and it's extremely important that they're removed properly.
These little tools have been a life saver! They quickly and painlessly remove the entire tick from wherever it's attached.
You can order them here:
ATV Gear Essential: A Light Source
Another item of ATV gear that came in super handy was a headlamp. When a buddy unexpectedly popped a tired deep in the woods, having a hands free flashlight made the repair SO much faster.
Being able to focus the light exactly where you need it, and have both hands available to work with makes for much easier repairs.
You can order one here:
Bonus Suggestion!
Here's a bonus ATV gear item you probably didn't think of when planning your trip!
We all end up bringing our devices on the trails.
I brought my phone so we could take pictures and video, send the occasional text (when we had signal), and most importantly, have music to listen to while we ride.
We were out for up to 6 hours on some days, and with constant use of the camera, my battery didn't last long.
My husband has this awesome solar powered backup battery that we use all the time. It hooks conveniently anywhere you'd like it too, and charges using the sun, so we always had a backup source of power when our batteries ran low.
You can get one here:
These were the most helpful items we used on the trails. What are your favorite items to bring? Tell me in the comments!
Essential ATV gear for your first trip!